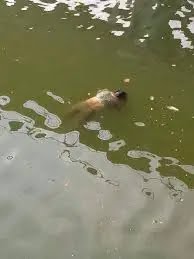 A yet to be identified 13-year-old girl, has been swept away by rain waters in Awka, the capital of Anambra State.
The tragic incident occurred on Wednesday evening as it rained heavily.
The heavy downpour led to the sweeping away of the 13-year-old girl.
The girl, who was assisting her guardian at a food stall along Ziks Avenue in Awka, attempted to rescue their wheelbarrow, which was being carried away by the flood. Unfortunately, she lost her footing and fell into a drainage.
An eyewitness recounted the incident, explaining that the fast-moving floodwaters immediately swept the girl away.
Her lifeless body was later discovered downstream.
The witness reported, "The girl was trying to rescue their wheelbarrow, which was being swept away by the flood.
"There were two girls, but the elder one missed her step and was swept away."
Local residents rushed to the scene and retrieved the girl from a drainage further down the road.
However, by that time, it was too late, and she had already lost her life.
The woman she had been assisting was grief-stricken and inconsolable in the pouring rain.
She was not the girls' mother but had employed them to help in her shop.
She expressed deep sorrow, pondering how to break the news to the child's parents. It was a heart-wrenching scene."
Ziks Avenue, located in the heart of Awka, is known to frequently experience flooding after heavy rainfall.