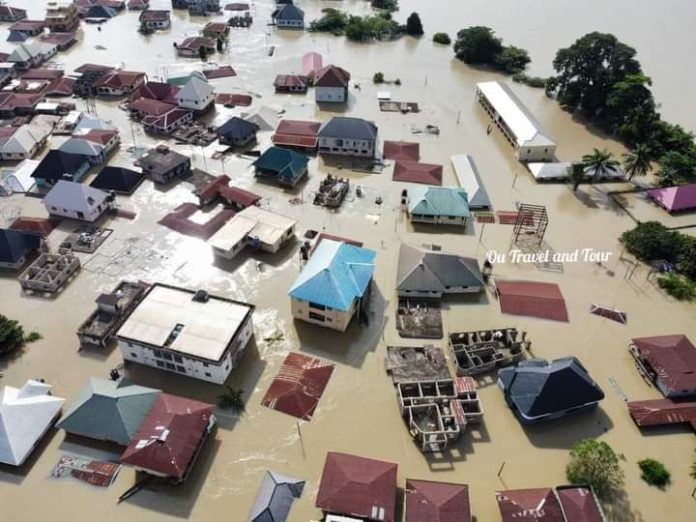 Flood has wreak havoc in 10 local government areas of Anambra State, The Story, can authoritatively report.
The Deputy governor of the State, Gilbert Ibezim, has called for the intervention of the federal government through the National Emergency Management Agency (NEMA).
Ibezim made the request during a visit to the headquarters of NEMA in Abuja.
The Deputy Governor, who delivered the appreciation of Governor Chukwuma Soludo and the people of the state to President Bola Tinubu on the recent interventions by the federal government through NEMA in Anambra, said the state needs more assistance in the next 48 hours as the flood was fast approaching the state from the release of water from Lagdo Dam.
He said the primary focus of his visit was to appreciate President Tinubu and the federal government for assisting the state through NEMA and also to strategize on flood preparedness and response in Anambra State.
In his response, the Director-General of NEMA, Mustapha Ahmed, thanked President Tinubu for approving the interventions and Vice President Kashim Shettima for always supporting the agency.
The DG also tasked the state on the importance of proactive measures to mitigate flood-related disasters, protect lives, and safeguard property.
He said, "The discussion also touched on the collaboration between the Anambra State government and NEMA in the deployment of resources, personnel, and equipment for effective flood response as they emphasized the need for a well-coordinated approach, early warning systems, and community engagement to enhance disaster preparedness and management in the state."
The courtesy visit underscored the significance of interagency cooperation and forward planning to address the recurrent challenges posed by flooding in Anambra State. Deputy governor Ibezim and director general Ahmed expressed their commitment to working closely to ensure the safety and resilience of the state's communities during the flood season.