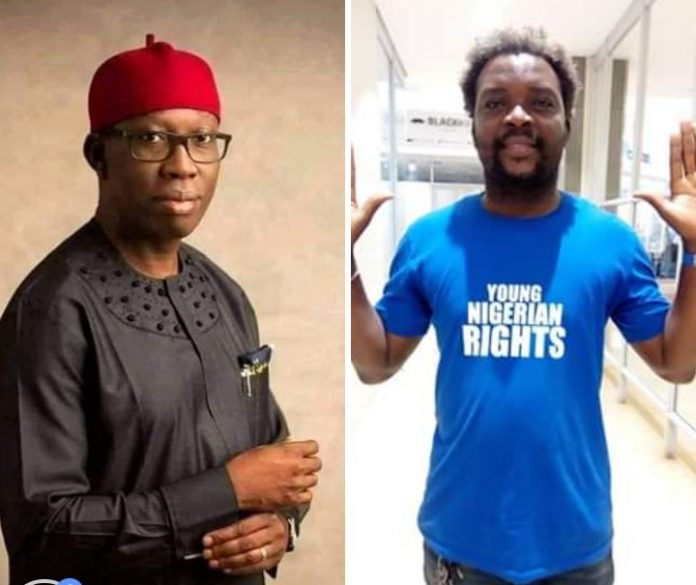 The Dr. Ifeanyi Okowa-led administration in Delta State, has come under serious attack over alleged infrastructural decay, unemployment, poverty and Insecurity in the last five years.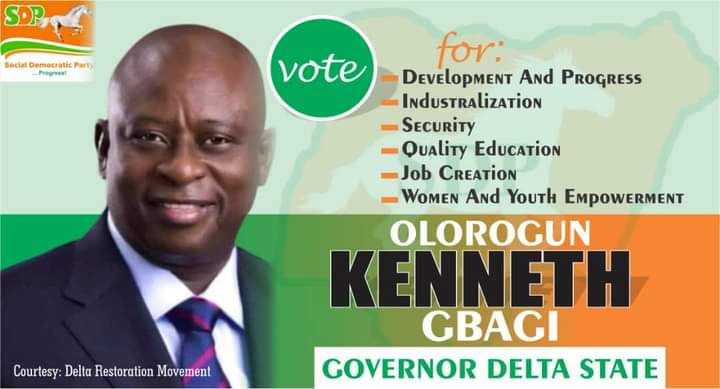 Director General, Young Nigerian Rights Organization, Comrade Victor Ojei, Wednesday took a swipe on the governor coincidentally on his birthday.
Comrade Ojei, didn't also spare past administrations over the sorry state of the state.
"It's a total failure of both the past and present governments to be insensitive to the plights of people.
"Listen people say our Governor of Delta State is a Roadmaster and road this or road that, I have a question for Okowa and his too many SSA, SA and PA'S sycophants how many times have they taken time to drive round Asaba Okpanam, Isele-azagba, Ugbolu, Illah and other places to see how people are suffering from poor  road network?
"Listen to me, the masses are doing their best by building houses in those inhabitable areas due to bad road or bad connecting link roads, yet government can't do common road, talk less of planned housing scheme for Deltans, that we all know that they have no such plans.
"So for me, the Government of both present and past are monumental failure if we should score them via the federal allocation,13% derivation and Internally Generated Revenue (IGR) since Delta State was created in 1991, which is almost 30yrs and we cannot drive round the capital territory with ease.
"The responsible agency that was suppose to champion the construction of the capital territory are busy ceasing people cars, sealing fuel station etc.
They now intimidate Deltans using police to go about all these operations. Keep in mind that the police have their mandate and the DG Capital Territory Development Agency also have her mandate but so far so good the agency have a misplaced priority.
"You cannot see army man engage in police man duty or navy into local government chairman statutory duty. Why will capital territory agency be involved in traffic management that is not in their gazette?
The vibrant activist called on Deltans to study the gazette that established the Delta State Capital Territory Development Agency, "there was no duty assigned for traffic management, DESTMA are the government agency assigned for traffic management".
"If you do not have the gazette of Delta Capital Territory Development agency, kindly notify me, I will snap and send it to you all to study then come back here to prove me wrong", he Challenged the state government.
Ojei, also took a swipe on some praise singers who he termed as "hallelujah boys and girls" who are also busy singing their praises, saying "It is a shame that youths of this generation lacks vision and care only for what they will eat, they focus on stomach infrastructure and sycophantic living".
"Many are now Delta State Government apologist. The government e-rats and Facebook Gladiators can't even defend the Delta State Government anymore.
"They are all silent because it is VERY DIFFICULT TO DEFEND FAILURE. Coupled with the fact that this is governor. A Chinese proverb says "if you want a good economy build good ROADS".
"The most annoying of it it's that we are blessed with good topography unlike the Eastern part of Nigeria, yet we are lacking road badly.
"Go to Jesus saves link road, go to Asaba to ibusa road, Asaba to Ugbolu road, Asaba to Benin city road then come back here to judge me, if you are a government official or political appointee who feels I am lying against delta state government.
"Please, come and Sue me. Smart Government indeed".
"Happy birthday your Excellency, Senator Dr. Ifeanyi A. Okowa, the Executive Governor of Delta State".