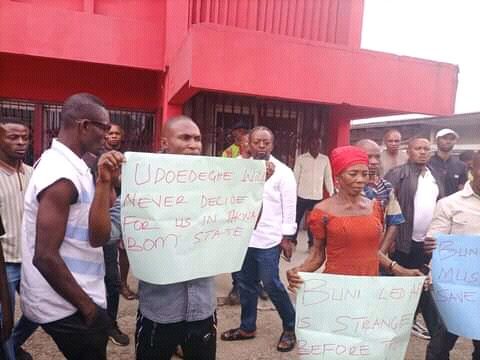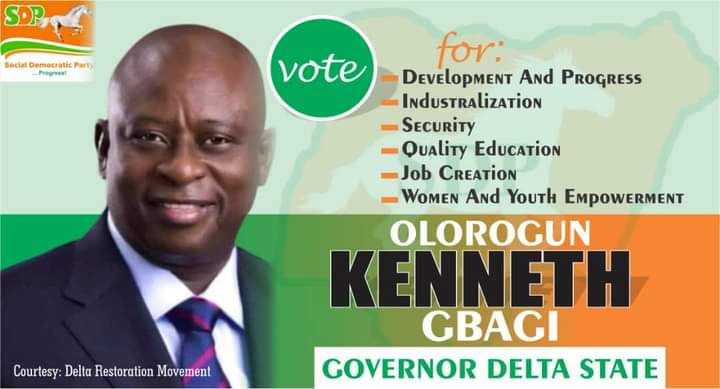 Angry protesters have launched mass protest at the party secretariat of All Progressives Congress (APC), seeking the cancellation of the ward congress exercise, alleging that the National Caretaker Committee, had "fraudulently manipulated the lists".
The protesters drawn from the faction allegedly loyal to the Minister of Niger Delta Affairs, Chief Godswill Akpabio, stormed the Secretariat along Ikot Ekpene Road, Uyo, the Akwa Ibom State capital, calling for the cancellation of the process, alleging that the Caretaker Committee Secretary, Senator John Udoedehe, purportedly included only his loyalists as candidates for the wards and chapter congresses.
Armed with placards of various inscriptions: "Udoedehe cannot decide for us in Akwa Ibom", "The list cannot stand", "We reject this shambolic manipulation by one man", "This congresses cannot hold" and "Enough of one man dictatorship in Akwa Ibom APC," the protesters set bonfire outside the party office and caused traffic chaos along the major access road outside the Uyo city centre.
"We want the whole world to know that this sham is happening in Akwa Ibom. The party in the state has come under the vice-grip of one man just because of his ambition to rule the state in 2023."
"We don't know how he wants to achieve this if the party is balkanized with elements of disharmony holding sway."
"If we can no longer speak with one voice, how will he be able to realise his ambition which he has been nursing every election year?" Comrade Effiong Bassey, a youths' activist and one of the protesters lamented.
However, the protesters, who called for the removal of the former Minister of State for the Federal Capital Territory (FCT), insisted that "only his sacking will bring peace and force other members who left the party to return and rebuild the party for 2023."
On Friday, stakeholders under the aegis of APC Elders Forum led by Board of Trustees (BoT) member, Group Captain Sam Ewang, had passed a vote of no confidence on the state care-taker Chairman, Dr. Ita Udosen, alleging he was playing the card of Senator Udoedehe by manipulating the exercise and doctoring the candidates' lists in his favour.
Therefore, the elders drawn across the 10 federal constituencies, expressed lack of faith in the exercise and called for the anomalies to be addressed before the polls.
However, at the time of filing this report, ballot materials were yet to arrive the party office.
The caretaker Chairman, Dr. Udosen, explained that "the delay in the arrival of materials is due to the restriction of movements announced by the state government because of environmental sanitation."
He added that the exercise would go on as planned despite the protests and urged party supporters and followers to disregard the factional distraction.