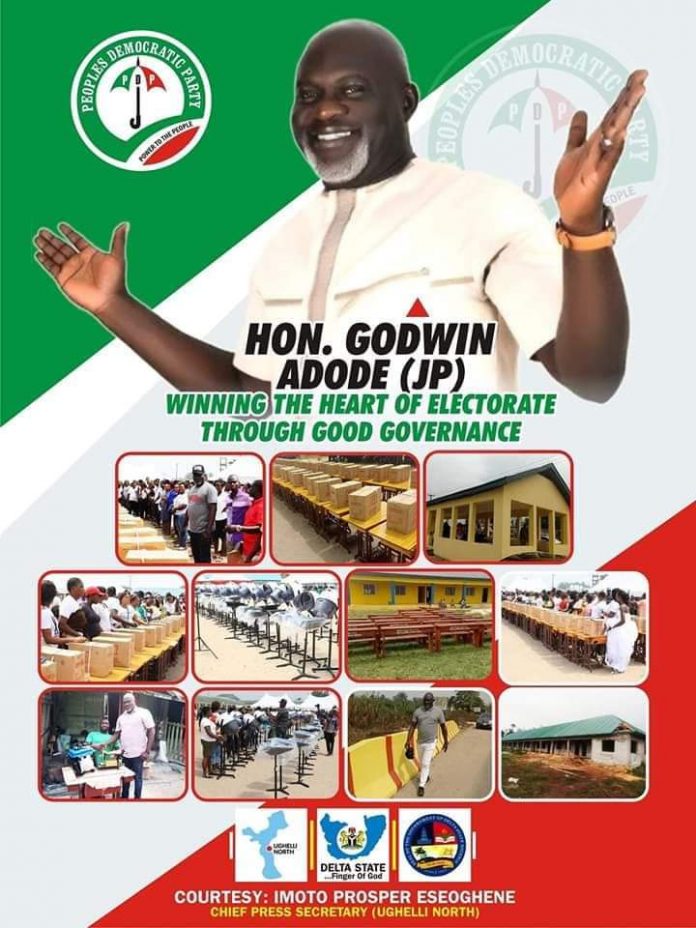 The Executive Chairman of Ughelli North Local Government Area, Olorogun Godwin Adode (JP), and his Vice, Honorable Victor Avwerosuo Uyoh assumed office on 8, January 2018.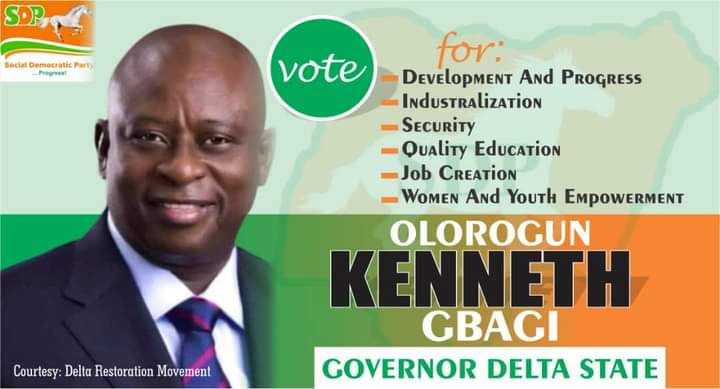 Since they assumed office, they have impacted on the lives of the noble people of Ughelli north local government area successfully.
They have also restored the lost glory of the local government for the good and betterment of the noble people who are craving for quality leadership that could end the historic run of bad leadership which had plagued the local government over the years.
Adode and Uyoh led administration has successfully displayed excellence in governance, that has led to a qualitative, productive, robust and thriving economy for Ughelli north.
The Adode and Uyoh administration has also presented a template that has transformed our darling Ughelli north into a modern city that all and sundry are proud of today.
Some Highlights of the Adode/Uyoh led  administration.
(1).Construction of Six Block of Classroom with toilet and modern facilities in Ododegho Community.
(2). Construction/Extension of Ughelli North Health Care Centre with toilet and modern facilities.
(3). Construction of Concrete Safe Guard in Agbarho Bridge.
(4). Rehabilitation of failed portions of roads  across Ughelli North metropolis, including Okorodafe Street, Aroh Road,  Afiesere Road, Upper Afiesere junction, Onoharigho Junction, Makolomi Street amongst others.
(5). Construction of Shokare Street off Upper Agbarho Street.
(6). Renovation of the Sixth Legislative Chamber and Council Hall.
(7). Organized Urhobo Language Competition among students in Secondary Schools across Ughelli metropolis.
(8).Donates cash, food/relief materials to affected flood victims across Ughelli North.
(9).Putting a stop to Fulani Herdsmen Killings in Agadama, Uwheru, Ohoror, Ogor environ.
(10). Resolving Evwreni, Agbarho, Orogun, Owevwe, Uwheru, Agbarha-Otor crisis.
(11).Donates Sleeping materials, Generator/ Fencing of N.Y.S.C. Corpers Lodge.
(12)Donates Fire Proof Cabinet to National ldentity Management Commission (NIMC).
(13). Paid Hospital Bills for the less privileged once.
(14). Empowered over 150 women monthly.
(15). Created Jobs for over 300 persons under the lnternally Generated Revenue Committee.
(16). Maintenance/ Linking of Uduophori Avenue to Uloho Avenue.
(18). Present Official Car to the Leader of the Sixth Legislative Arm, Rt Hon Felix ltobore.
(19). Organized Ughelli North Chairman's Cup for the (7) Kingdom, with set of jersey each.
(20). Renaming Ughelli North Public Field after late Clifford Omavuaye Cassidy the fish Ughelli son to play for the super eagles of Nigeria.
The none indigenes of Ughelli North Local Government Area are not left out of the Adode & Uyoh led administration.
The saying that behind every successful man, there is a woman, has played out as the Chairperson, Olorogun Mrs. Evelyn Onome Adode, is not left out of the success story of Adode and Uyoh led administration.
The lovely wife of the number one citizen of the Ughelli north local government area, also gave her quota by flagging off (MNTE) campaign program across Ughelli north metropolis.
Olorogun Mrs, Evelyn Onome Adode, also  donated food iterms and relief materials to Orphanages home across the local government.
She also donated  hospital equipment to Ughelli North Central Hospital.


See pictures of the achievements below: