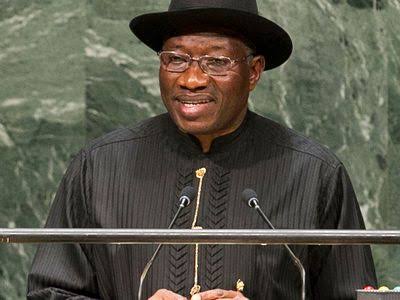 Former President Goodluck Jonathan may have concluded plans to run for president come 2023 on the platform of the All Progressives Congress (APC), after months of several denials and sustained suspense.
Jonathan's entrance into the race followed the purchased of the APC's expression of interest and nomination forms by a coalition northern groups on Monday in Abuja.
The Fulani group, Nomadic Pastoralists and Almajarai Community led by Ibrahim Abdullahi said they believed in the capacity of Dr Jonathan because of his pan Nigerian outlook while in office.
It has been rumoured that some power brokers within the President Muhammadu Buhari-led government had been courting him to join the presidential race on the APC ticket.
Abdullahi and his group recalled what he called the "comprehensive policy of the Goodluck Jonathan administration of reformation and integration of the Almajarai into the educational system of Nigeria.
"It was the dream and the vision of President Jonathan to produce doctors, lawyers and engineers from Almajarai but unfortunately that laudable vision was abandoned once he left office.
"Looking at this situation, the problems Nigeria today is facing, we need a leader with that kind of patriotism, a leader with that kind of fairness, a leader who can give all Nigerians a sense of belonging is who we need. That person is Dr Goodluck Ebele Jonathan.
"We are ready not only to purchase this form for President Jonathan but I want to assure you that our Community, the Nomadic Pastoralists, has a voting population of about nine million youths, who can also produce about 5 million! So, we have about 14 million voters. We have other Nigerians who can give us 2million votes and we are home and dry."
Following the development, the party on Monday received N100m for the presidential form of the former President.
The coalition that bought the forms was said to be a group of supporters of Fulani extraction and Almajiris led by Ibrahim Abdullahi.
They picked the expression of interest and nomination forms for the former President around 6:30 pm.
Jonathan has not officially announced that he was dumping the opposition Peoples Democratic Party (PDP) for the APC.
At the time of filing this report, the former President had not made any comment on the forms purchased for him.
Letter acknowledging payment of presidential forms for former President Goodluck Jonathan.