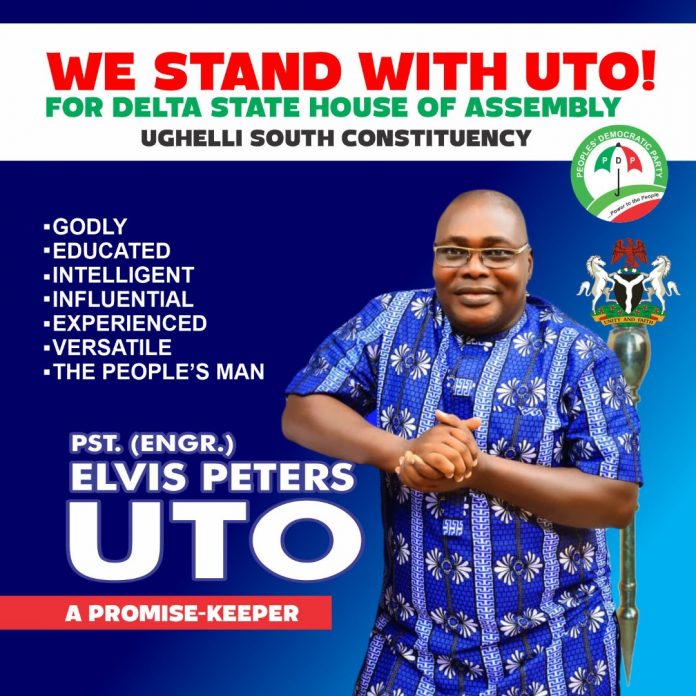 As the race to the Delta State House of Assembly (DTHA) for Ughelli South State Constituency come 2023 thickens, friends and associates of the leading House of Assembly aspirant, Pastor Engr. Elvis Peters Uto, said the people should count themselves lucky to have someone like him in the race.
Wilson Igbinosa, who spoke from Chicago, United States of America (USA), described Pastor Engr. Uto, as a promise keeper, assuring that with him in the House, there are opportunities of development in the area.
"Apostle Engr Elvis Peters Uto, is a man that keeps to his words. He has the good of the people in his heart.
"There are networks in place to help bring some development to Ughelli South from the United States of America and the only way we can do this is, if we have him in office", calling on the constituents to vote him into the office.
Also, Mrs. Stella Oresanya, who lives in Dubai, United Arab Emirate, disclosed that the prominent aspirant, lives a selfless life and had integrity to serve in the office he is vying for
"I pledge my support for Elvis Pastor Engr. Peters Uto for Ughelli South. He is selfless. I want to encourage you to vote for him. He is a man of integrity. He is caring, loving, selfless in his with everyone".
Another respondent, Austin Okokoro, from United Kingdom (UK), revealed that Pastor Uto, has impacted in his life just as he called him "the transformer".
"I want to congratulate the people of Ughelli South that God has finally answered your prayers, Pastor Engr Elvis Peters Uto, is the right man.
"I call him the transformer because my own life is an example and a testimony of what God used him to do. So, Ughelli South people be ready to enjoy the resources that you have in your land through quality representation by Pastor Engr. Elvis Peters Uto in the Delta State House of Assembly".
Another of his associate, a seasoned broadcaster, Austin Okorodudu, in Nigeria, said Engr. Uto, has what it takes to replicate his achievements in the ministry and former Superintendent Engineer in the civil service.
"He is somebody who has the heart to serve. He has done that for the ministry, through his foundation and his has done that in lives of his friends and his mentees all over the world.
"As a young man I have come to enjoy his mentorship over the years. As a young man, I met him as an undergraduate student and we have maintained a very robust relationship.
"He is running and looking at the crops of people, I want to say he stands out because of his antecedents. I want to say give him your votes and let make this happen. Ughelli South State Constituency, let's go do this", he added.