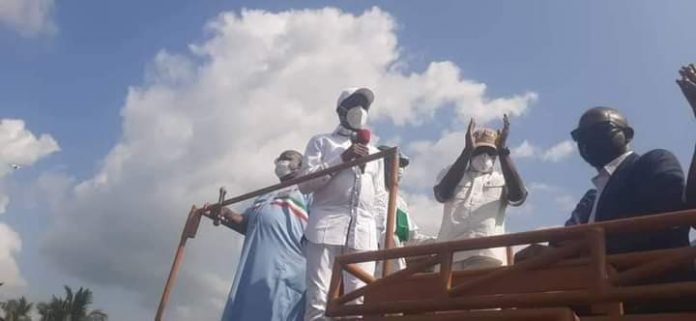 The Peoples' Democratic Party (PDP) in Delta State and the governor, Dr. Ifeanyi Okowa, are currently suffering from the punch, one of the major and opposition political parties, All Progressives Congress (APC), left on them.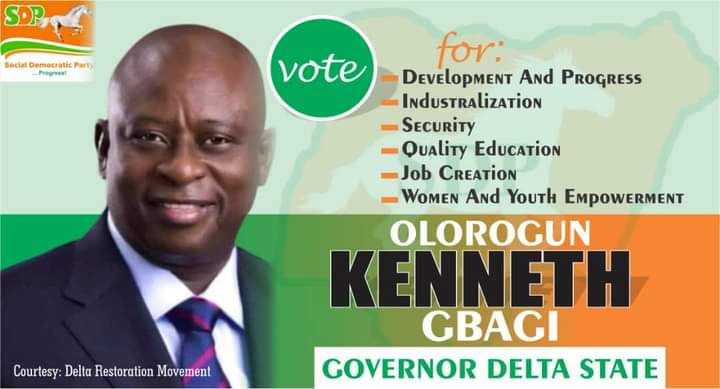 This is coming on the heels of the state governor's political jamboree at the Edo State PDP Campaign where he made "a ruse and a mere superficial statement".
A press statement made available to The Story, on Friday by the party's Publicity Secretary, Sylvester Ogheneluemu Omonina, Esq. described the much talked about prosperity for all Deltans mantra by the PDP as a charade and rather "Poverty For All Deltans".
Barr. Imonina, regretted that a state with the highest federal government allocation with poor labour relationship could reduced the salary of the workforce but have over bloated political appointees sucking the wage bill to the detriment of workers.
Read the full statement below:
Prosperity For All Deltans, Now Poverty For All Deltans- Delta APC
There is a popular saying that "charity begins at Home". In other words, you cannot give what you do not have. 
On the 19th of August, 2020, Govr. Ifeanyi Okowa of Delta State was amongst PDP top-notch at Edo State PDP gubernatorial rally to convince some gullible Edos to vote for their like. 
Information at the disposal of Delta APC says that the Governor of Delta State spoke glowingly on his purported "prosperity for all Deltans" and the need to replicate same in Edo. It was also reported that the Governor of Delta State told Edos that being the Chairman of South South Governor's Forum, the Edos should do him a favour by voting/re-electing Govr. Obaseki so that Edo State, like other South South States would be a PDP state. That is, if Govr. Obaseki is reelected, there would be synergy between him and the Edo State Governor in the area of roads construction and other developmental ventures.
While we concede to the fact that Sen. Ifeanyi Okowa, Governor of Delta State has the right to campaign for anyone of his choice, without mincing words, we want to state that even the blind, deaf and dumb in Delta State know that the State Governor's much touted prosperity for all Deltans is nothing but "poverty for all Deltans". It is a ruse and a mere superficial statement calculated to hoodwink the gullible. 
The level of poverty under Govr. Okowa's Government in Delta State smells to high heaven. This is clearly manifested in the inglorious ways the affairs of Delta State are managed.
Deltans under Govr. Okowa only recently witnessed the unholy reduction of workers' salaries from #30,000 minimum wage to #18,500 under the pretence of inadequate funds arising from the shocks of the novel  corona virus. Yet, the Governor continues to appoint political Aides on a daily basis all in a bid to continue to entrench his control over the political space in Delta state. 
Because of the insensitive and anti labour policies of the Governor, most workers in the State now find themselves in a state of economic cul-de-sac, thereby living from hand to mouth!
Majority of political Aides appointed by the Governor have no offices where they operate from! They add no economic or developmental value to the State. They constitute a drain pipe for milking Deltans of their common wealth particularly those in the civil service.
Infrastructal development is nothing to write home about. Warri, Effurun, Sapele, Ughelli, Ozoro, Abala in Ndokwa East, Kwale and other Towns and Cities are a shadow of themselves. Painfully, Warri, Sapele and other Cities that used to be the envy and talk of Deltans and non- Deltans now exist in past glory.
Shamefully, some political hangers-on call the Governor "road master", when in fact, roads in most Towns and Villages are death traps. Where any road is reluctantly done, the quality of same is usually a far cry from what a road should be, particularly when Delta State remains the highest recipient of Federal (revenue) allocation!
On the area of creation of employment, same only exist on paper and social media, through "social media errands boys". There is no real manifestation of any form of empowerment of Deltans by the Government of Delta State. Most young Deltans are now either tricycle operators or "Tuketuke" drivers or the likes.
Delta APC therefore calls on Edos not to fall cheaply for the "prosperity mantra" and the touted "benefits" they are to get if PDP is voted in Edo State, echoed by the Governor of Delta State two days ago at Ekpun, Edo State. Edos, listening to same would be unintentionally courting a higher degree of "poverty" should they take him seriously and  God forbid that he is taken seriously.
As for the Governor of Delta State, Delta APC calls on him to leave Edo politics for the Edos. Monies meant for the development of Delta is now been wasted on PDP political jamboree in Edo State to the detriment of Deltans! Deltans rightfully expect their Government to solve their economic, social and security problems before going outside the State to preach what does not exist in our their State.
Sylvester Imonina, Esq.,
Publicity Secretary, APC Delta State.
21st August, 2020.