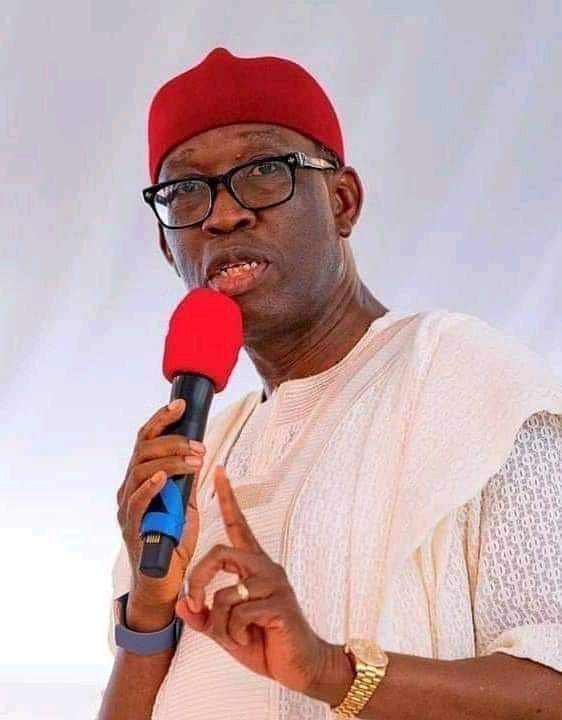 Delta State Governor, Dr. Ifeanyi Okowa, has debunked news making the rounds that he hijacked the Peoples' Democratic Party (PDP), Delegates list ahead of the party primaries.
Okowa made the clarification on Thursday May 5th 2022, during the quarterly media briefing held in Government House, Asaba.
He explained that people who have been elected into various offices as contained in the constitution of the PDP including those that have held various offices in the past are statutory delegates.
According to him, on the 5th of April this year, we had sat in Unity Hall where all the aspirants to various offices staring from the house of Assembly through the governorship were there in the Unity Hall with the state Excos and leaders of the party across the state where we all agreed that we will do a consensus I'm getting the three man delegate part Ward. It was an agreement with everybody in place and that is what was done
"I do not even know the delegates from my own Ward not to talk of hijacking a list of delegates. And I am aware that everyone went back to his wards with the Ward Excos and leaders of each Wards and throw up a three man delegate.
"And the whole thing was processed through the local government party chairman to the State Exco and where they have issues, it was the State Exco that will help to see to ensure that it was resolve it in building the consensus, which is allowed in politics.
"On the 30th of April, they went to the various Ward venues to bring those they arrived at through a consensus . So, there was no room for a governor Okowa to hijack the delegates".
Okowa disclosed that some person tried to hijack the delegates list against the agreement that was reached on the 5th of April but however failed, 'because they introduced and bought forms outside our agreement and throw up persons at that point in time but they were not able to hijack the process.
"But on our own part, there was no attempt to hijack. I didn't need to because if that was the intention, there was no need to have called that meeting of all aspirants, leaders and the State Exco of our party to think about the modality of the Ad-hoc delegates.
"The ad-hoc delegates are just three par Ward. I think the best has been done, the Ward leaders are working through the local government level through the State level, I think that they have done enough work to a reasonable consensus and that is the position concerning the issue of delegates", Okowa said.