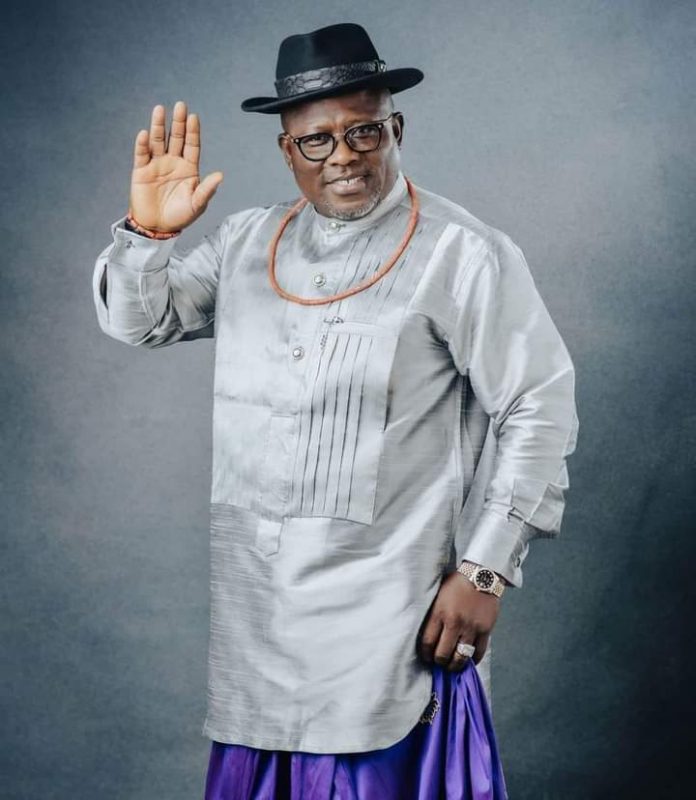 As the governorship race in Delta State, takes a new twist, the state Governor, Dr. Ifeanyi Okowa, has been alleged of deploying $2 million to secure the clearance of his anointed aspirant, Sheriff Oborevwori, whose credentials were littered with discrepancies.
As was widely reported, Oborevwori was petitioned at the Peoples' Democratic Party (PDP) Governorship Screening to explain how all of his educational certificates – from First School Leaving Certificate through his WAEC, BSC, NYSC and Masters Degree Certificates – all bore different names, an inconsistency which was likened to the case of Degi Eremienyo leading to the Supreme Court upturn of David Lyon's APC victory in the Bayelsa State Governorship election.
Our source revealed that though Okowa said he has no worries about pushing Oborevwori through the internal processes of the PDP, having allegedly dropped $2 million to ensure all clearances, he expressed regrets that it was too late to substitute Oborevwori because he has no other alternative among the contestants on whom he can place absolute confidence to remain in his control.
It was learnt that the embattled Oborevwori could not defend the discrepancies discovered in his results, Okowa was said to have intervened with the Chairman of the Committee, Governor Duoye Diri of Bayelsa State and, by purportedly by Didi's advise, new court documents were allegedly produced for Oborevwori on Friday morning to resubmit to the panel before he was issued a provisional clearance on Saturday morning.
It was gathered that Oborevwori was also advised to withdraw his BSC and Masters certificates to reduce the multiplicity of names and retain only his Primary School and WAEC Certificates both of which bear Oborevwori Francis, even though with the slight difference of an initial.
It was reliably gathered that the caucus meeting further advised him to henceforth tender only his basic and secondary school results, since those are the minimum educational requirements provided by the constitution for holding political offices and in order not keep embarrassing the caucus.
It was however noted that there is the possibility of further challenge of his WAEC Certificate at the Appeals Committee or in the future by the opposition party if he possibly emerges from the PDP primaries.
Meanwhile, Okowa, has reportedly expressed regrets at not allowing his Chief of Staff, Festus Ovie Agas, to enter the Peoples' Democratic Party (PDP) Governorship race for 2023.
An impeccable source at Government House, disclosed that Okowa was embarrassed by the discrepancies in the credentials of his preferred choice, Sheriff Oborevwori.
The source said the regrets was expressed at a close caucus meeting convened on Saturday night to appraise the conduct of ward congresses and also review the issues surrounding Oborevwori's credentials in order to plan against possible further challenges.
According to our information, he particularly lamented that had he allowed Ovie Agas to purchase the Expression of Interest and Gubernatorial Nomination forms he would have easily dropped Oborevwori rather than having to suffer the embarrassment, pressure and huge cost he is now deploying to push him on.
It is recalled that in April, Agas, was rumoured to have resigned as Chief of Staff and was expected to pick the forms but after a flurry of reactions by some political actors the rumour faded.
Our source said when a member of the caucus suggested to Okowa to consider Peter Mrakpor, he purportedly said Mrakpor made a statement at some point that he would send him to jail. Our source said in view of the zoning of the Governorship to Delta Central, he cannot also consider substituting Oborevwori with his Deputy Governor, Barr. Kingsley Otuaro who is from Delta South.
On their appraisal of the ward primaries, the caucus is said to have expressed satisfaction with their ability to secure the affirmation of their selected ad-hoc delegates, except in a few places, and are assured of Governor's influence over the party and the Independent National Electoral Commission (INEC) to ensure that the list is sustained for the primaries.
The meeting however expressed fears about the possibility of many of their listed delegates failing to vote for Oborevwori with the public disgust and wide suspicions of forgery of his documents and they allegedly resolved that leaders in their group shall camp delegates from their respective constituencies separately and make them swear to a voodoo oath to vote as they are directed.
The meeting was said to have reasoned that even if the oath would be faked, it would be enough to scare majority of the delegates.