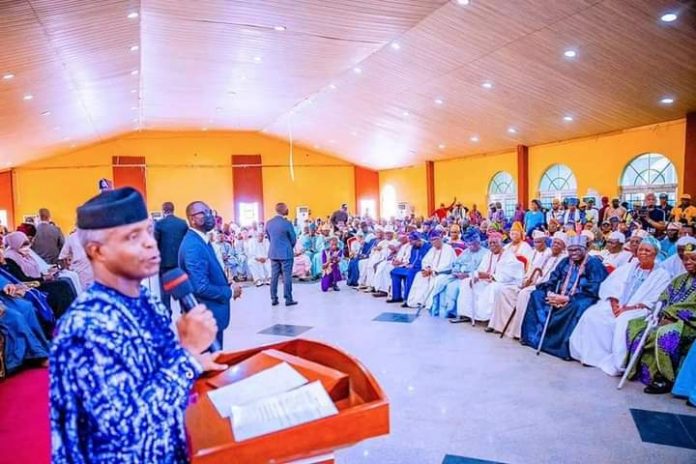 Nigeria's Vice President, Prof. Yemi Osinbajo, said with his wealth of experience in his capacity and haven served as Acting President, he is qualified for the seat of the President come 2023.
"I have had the unique opportunity of serving under President Muhammadu Buhari who exposed me to practically every aspect of governance.
"He exposed me to various things in governance, especially sensitive issues in governance. I then had the opportunity to serve as Acting President on several different occasions."
Osinbajo, SAN, stated this during his visit to Ogun State, where he met with traditional rulers, official dignitaries, leaders of thought and state delegates of the All Progressives Congress (APC).
Besides the interaction with the delegates at the State Capital, the VP's other stops were in Sagamu, where he was hosted to a townhall reception at the palace of the Akarigbo, the Alake's palace and, later in the day, at the palace of the Olu of Ilaro, all in Ogun State.
Everywhere he went yesterday, the receptions reflected a homecoming welcome for the Vice President, with mammoth crowds on the streets and at the palaces.
The people of the State adorned the streets and roads as the VP's convoy drove through the cities of Abeokuta, Sagamu and Ilaro.
Praising the President for being open-minded and giving him opportunities in government, Prof. Osinbajo also stated that his decision to run for president was to give the best of his service and wealth of experience to the nation.
The Vice President noted that governing at the highest levels in the country required some experience and training, which he had expectedly garnered in over seven years serving as President Buhari's deputy.
At the Akarigbo of Remoland's palace, the monarch extolled the VP's qualities, of integrity, competence and character, also noting the impact he had on governance as acting president.
According to the monarch: "we are all living witnesses to when our son was in charge as Acting President.  We saw the difference in our country, and that was just within a matter of weeks and months.
What would now happen if he becomes President for 4 years or 8 years? This country will undergo tremendous change."