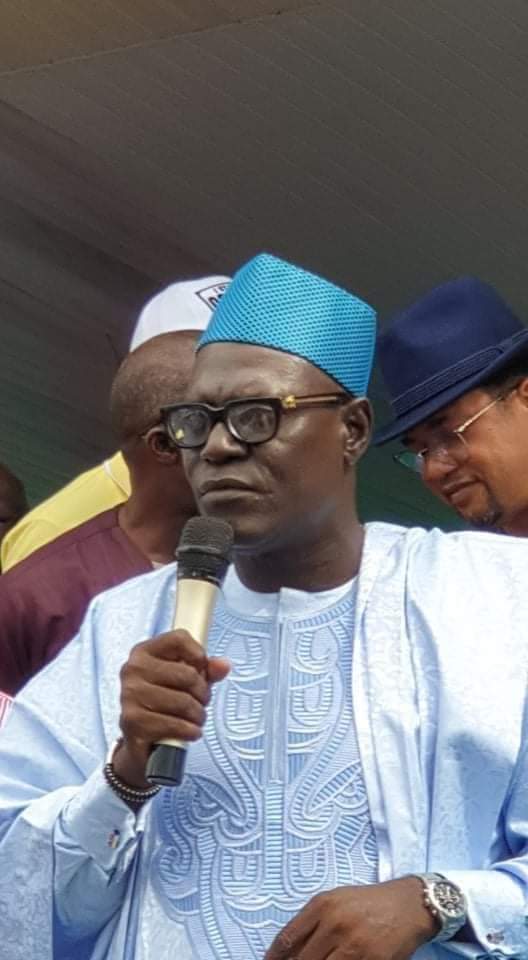 ..Says Urhobo Governor Is Sacrosanct, Done Deal
…As Edevbie, Amori, Uzor, Eulogies Okowa, Esiso, Onoriode
The coast is now very clear as to where or which Senatorial District that would produce the next governor of Delta State come 2023.
The clarification was made by the Chairman of Delta State Chapter of the Peoples' Democratic Party (PDP), Barr. Kingsley Esiso, when he put paid to speculations and political permutations in the state.
Esiso who was visibly firm, factual and unequivocal, let the cat out of the bag on Sunday August 30, 2020, saying that power rotation in Delta State is strictly on the basis of senatorial district; and neither by tribe nor ethnic nationality as some folks want Deltans to believe, adding that the party leadership in the three senatorial districts of Delta North, South and Central had always been in one accord as to the devolution of power to Delta Central in 2023.
He further disclosed that "noise making or personal narrow opinions" were allowed in politics, which is why Deltans and Nigerians must not be swayed by all kinds of misinformation and self centered ambitions or political statements spiced with unpleasant tribal/ethnic colourations, as we navigate towards 2023 governorship election in Delta State.
Esiso took a step further in his maverick political declaration by corroborating the earlier promise made by the leader of the party in the State and Governor of Delta State, Senator Dr Ifeanyi Okowa, when he echoed it during his 2019 campaign tour that he shall certainly handover power to Delta Central candidate of PDP in 2023, based on the result oriented unity agreement of power rotation on senatorial district basis.
Esiso's final seal on the issue of 2023 governorship in the state, provoked wild jubilations at Lovett Idisi's palatial home, venue of the hosting of Esiso and the party's State Organising Secretary, Okakuro Sunday Onoriode. 
Executive Assistant to the governor of Delta State on Strategic Political Communication, Dr ( Barrister) Fred Latimore Oghenesivbe, while speaking to newsmen at the venue of the event in Oviorie said "It is now a political gross misconduct within PDP family for any member or aspirant to pursue his or her 2023 governorship ambition on the basis of tribe or ethnic nationality. Such aspirant may be treated as a political outcast by leaders, chieftains and party faithfuls.
"By senatorial rotation of power, it is meant that power shift is not on the basis of tribe or ethnicity. To produce a governorship candidate the tribes or ethnic nationality domiciled in the beneficiary senatorial district must jointly agree on which tribe or ethnic nationality within the district that should produce the candidate.
"The concerned district after due consultations and haven agreed on which ethnic nationality to go for that district, shall in one accord communicate same to the leadership of our great party and the other two districts will work with the beneficiary district to deliver their choice which becomes the party's candidate after primaries.
'It is simple enough for any 2023 governorship aspirant within the PDP family in Delta State, to understand that rotation of power is neither by tribe nor ethnic nationality but by senatorial district, and any governorship aspirant talking about tribe or ethnicity outside of his or her senatorial district does so at his or her political risk, and shall be ignored and allowed to wallow in political wilderness".
Esiso was full of praise for PDP leader in Delta State and platinum governor, Senator Okowa, describing him as a super breed, a well grounded politician and a consummate visionary leader of no mean repute, noting that Okowa is in one accord with national leader and resource control ambassador, Chief James Onanefe Ibori, and that the duo and other party leaders deliberately and collectively turned the fortunes of the state around for the better, placing Delta as a reference point in national politics, infrastructure development, jobs and wealth creation as well as the number one state in Nigeria, in terms of peace building and security, from 1999 till date.
In the same vein, Chief of Staff to Delta State Governor and former commissioner for Finance, Olorogun David Edevbie in his remarks said the unity and collective responsibility of party leaders, chieftains and supporters to sustain PDP's supremacy as the mega party in the state is evidenced in the open display of oneness via the bond of unity expressed in the three senatorial districts during the 2019 governorship election.
He urged party faithfuls and leaders to build on the huge success recorded in 2019, wherein the RoadMaster and platinum governor of Delta State, Senator Dr Ifeanyi Arthur Okowa was reelected in a superlative landslide victory, adding that the state party chairman, Esiso and the party leadership worked so hard to keep opposition parties at the bottom of electioneering ratings in the state.
Edevbie, who is an emerging reference point in strategic politics in the state said hosting Esiso and Onoriode by Hon Lovett Idisi points to the fact that the good people of Ethiope East and Ethiope Federal Constituency generally appreciates and recognized the superb qualities of their two sons, Esiso and Onoriode in the forefront of party affairs in the state and urged them to build on the success so far clinched by crafting winning strategies ahead of 2020 general elections in the state.
He urged Deltans to continue to support governor Okowa, especially as we gradually overcome Covid-19 pandemic, so as to enable him deliver on his  firm promise to handover a Stronger Delta State to the next governor, hopefully from Delta Central in 2023.
Chief Senator Igjoyota Amori, the undisputed Odidimadi of Africa said politics of Ethiope Federal Constituency made remarkable progress from the era of Chief Ibori as governor till date, and gave kudos to Hon Lovett Idisi, for bringing leaders, Chieftains and party faithfuls together to celebrate Esiso and Onoriode.
He further asserted that the party leadership is in total agreement as to the results of the state party congress which returned Esiso as State party chairman, adding that Chief Ibori and Governor Okowa are always working closely for the good and benefit of all Deltans, urging party faithfuls to support Esiso and the newly constituted Exco to ensure another round of uncommon electioneering victory, come 2023.
Also speaking, former Chairman of PDP in the State, Chief Edwin Uzor described Esiso and Onoriode as trustworthy, reliable and result oriented party chieftains worth celebrating all year round, adding that the party family members in Delta are happy that Esiso's era as party chairman brought new innovations and political sagacity wherein the PDP became stronger and better, as can be seen from the rapid membership growth of the party from 2015 till date and still counting, as well as the sweet victory recorded at the polls in 2019.
In the same vein, the  Honourable Commissioner for Urban Renewal, Barrister Arthur Akpowowo said the good people of Ethiope East are now united and speaks with one voice due to the intervention of Governor Okowa and other stakeholders, adding that in time past there were multifaceted leadership problems which the governor and the  leadership of the party in the LGA fought so had to resolve.
He disclosed that Esiso and Onoriode are good ambassadors of Ethiope East and Ethiope Federal Constituency in particular and Delta State in general, and urged the duo to keep the flag of PDP flying.
Ethiope East Council Chairman,  Chief Mrs Faith Majemite, Hon Sunny Emeyese, Chief Bernard Edewor and other leaders of the party also confirmed that Esiso and Onoriode remained the pride of Ethiope East and Delta Central senatorial district in this dispensation due largely to their inestimable contributions to the advancement of PDP in the state.
Highlight of the occasion was the presentation of over 200 former membeds of the All Progressives Congress, APC, in OVU Ward 5, to the State party Chairman who subsequently welcomed them to PDP.
Idisi said his ward went afishing, reconciled aggrieved political actors and converted  new members from the opposition parties in the ward.
He posited that his humble intention to host Esiso and Onoriode was premised on the fact that the duo made Ethiope East and the state party structures very proud, and felt it was the best thing to do.
"The good people of Ethiope East and West remained united on political issues as a result of the unity among leaders over the years, and we shall surely deliver come 2023," he said.