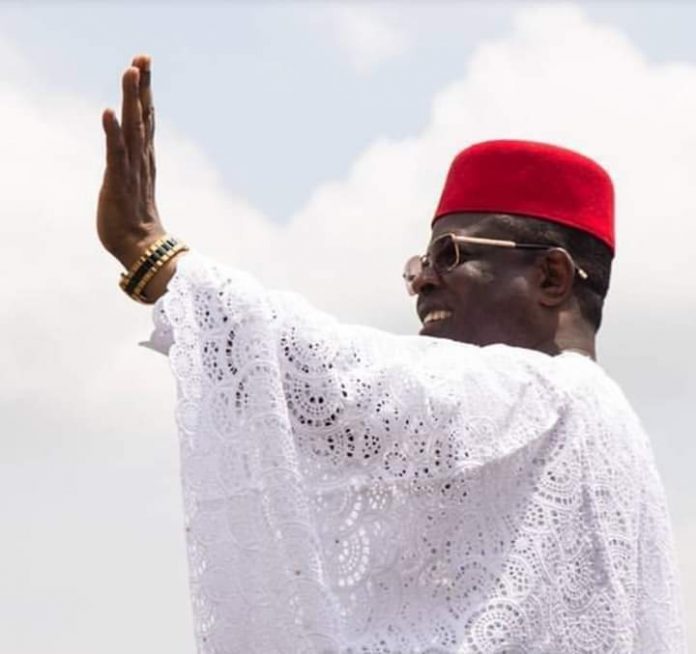 Monica Chidinma Eze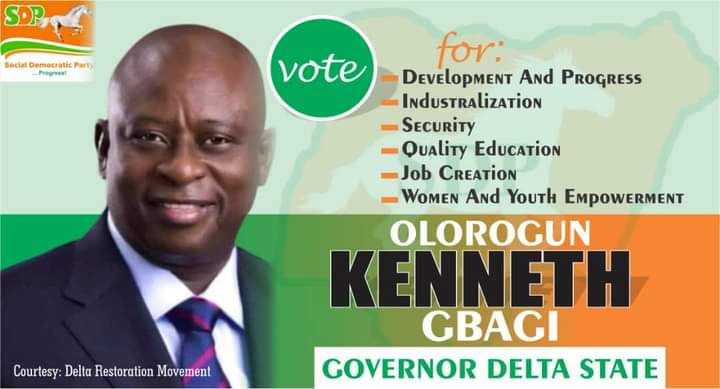 I am so excited to announce to the world particularly to the great people of Ebonyi State that God in His infinite mercy and divine consideration blessed Nigeria with the birth of a special son in the person of Engr. Dave Nweze Umahi FNSE, FNATE on the fateful day of 25th July, 1963.
I thank this great God who gave me this unique opportunity to celebrate my boss, my uncle, the Lion of Ebonyi, the enigma and the new face of democracy in the politics of Nigeria, anindefatigable; a resolute revolutionist, the Governor of Ebonyi State who turns 55 on 25thJuly, 2018.
With the birth of this shining star from Ebonyi State, 25th July every year remains remarkable, memorable, historical, epochal and evergreen to all Ebonyians. This is the wonderful day that Apostle Dave Nweze Umahi a humanist, an accomplished administrator par excellence, visionary, egalitarian, radical, respected, a pragmatist and exemplary leader was given to us about 57 years ago. He was inaugurated as the Executive Governor of Ebonyi State on May 29, 2015.
Apostle Umahi the Shining Star of Nigerian Politics and His Remarkable Feats
Dr Umahi based on the trust of his brothers the South East Governors collectively elected him the Chairman of the South East Governors Forum. Governor Umahi's emergence to lead this strategic body did not come as a surprise to political watchers in Nigeria considering his organizational acumen, reputation as peacemaker, sagacity, prowess and the wisdom with which he has governed Ebonyi since his assumption of office on May 29, 2015 and formal acceptability of Ebonyi State into the mainstream of the politics of South East,"
It is on record that for the first time an Ebonyian Governor (Governor David Nweze Umahi) was accepted as a Co-Chairman of the Southern Governors Forum (SGF) comprising of all the 19 Governors from the South West, South-south and South East. He is a key actor today in the politics of Nigeria.
In recognition of this great and unassuming leader from Ebonyi State he was awarded the prestigious Zik Prize for exemplary leadership in consideration of his unprecedented feats less than two years in office as the Governor of Ebonyi State, which has given hope, not only to the South Easterners but to the entire Nigeria that leadership that can take her out of her present wood and predicament is still possible." Affirming the greatness of this new discovery in the politics of Nigeria one of the big voices of Africa, a well respected world leader and a former Nigerian President, Chief Olusegun Obasanjo, described Governor Umahi as a true Nigerian which zeal, energy and character is a true test of a leader. I have seen his exploits and the speed to which he wants to develop Ebonyi."
Ebonyi State in the past was seen as the most backward and undeveloped State in South Eastern Nigeria but today through Engr. Dave Umahi, the State has come to acquire a new reputation as the most progressing and progressive state in the region. Umahi's focus and passion have brought unprecedented transformation and development in all sectors of Ebonyi State. Based on his track record, Umahi has proved himself worthy of being regarded as a reincarnation of Dr. Nnamdi Azikiwe a world acknowledged leader, an icon of repute and one of the greatest leaders from Nigeria, who was in his life time called The Great Zik of Africa."
To summarize what Umahi has become in the politics of Nigeria, his brother the Governor of Abia State recently declared him as the wisest Governor in Nigeria. The Abia State Governor, Dr Okezie Ikpeazu, who made the declaration during a visit by the Ebonyi State Executive Council to Abia State, is more than justified in the rating based on the realities on ground in Ebonyi vis-à-vis other states of the federation.
Gov Umahi's style of leadership is truly unique and has the imprint of wisdom all over it. At a time when many other states are finding it difficult to pay workers' salaries or meet other basic needs as a result of the economic recession in the country, the Umahi Administration, despite Ebonyi's modest resources, embarks on numerous road projects, flyovers, roundabouts, street lights and hospitals, while also executing a revolution in agriculture, as well as the educational and health sectors. This is in addition to regular payment of civil servants, who also get paid a 13th month by the State Government. Therefore, Governor Ikpeazu was 100% correct in describing Governor Umahi as the wisest State Governor in Nigeria.
This God gift to us Igbos and Nigeria as a whole has in addition to all these feats received accolades from World Leaders. Recently the United States Ambassador to Nigeria, Mr. Stuart Symington declared that Abakaliki rice being aggressively promoted by Governor Umahi is one of the best in the world. According to the Ambassador, "Your rice is the best anywhere in the world and we commend the Governor for putting his government to work in Ebonyi State."
I urge Ebonyians and the entire Easterners to join hands with me and celebrate Umahi for these positive testimonies by distinguished non-Ebonyians as I appeal to the people of the state to join in celebrating their God-given Governor who has deferred sleep in his quest to make Ebonyi one of the best states in Nigeria.
If we are to consider the massive investments in security, welfare, infrastructure, agriculture, roads, flyovers, health and education in Ebonyi State by this man, we from Ebonyi State count ourselves lucky having him as our leader.
The Politics of Engr. David Nweze Umahi
Engr. Dave Nweze Umahi was a very successful businessman before he ventured into politics. Besides, he has all the good things to make one comfortable. However, his desire to make a difference in the politics of his state influenced him to contest the highest political office in the state and, as God would have it, he succeeded through what is commonly defined in Ebonyi as Divine Mandate. He is popularly known by his chieftaincy title, Akubaraaoha (wealth that touches the lives of the multitude), because of his benevolence and philanthropy through which he has awarded thousands of scholarship to indigent students of Ebonyi State and alleviated many in other ventures.
Engr. Dave. Nweze Umahi against all odds and obstacles put before his path by the Elechi's political machine won the gubernatorial election in Ebonyi State in 2015 very convincingly; an election that radically changed the political mindset and landscape of Ebonyi State and made Engr. Umahi the first person from the southern section of the State to become the Governor of Ebonyi State. He has so exhibited and impacted his vision so visibly that Nigerians now boast and celebrate that truly a new visionary, focussed, determined, patriotic, revolutionary, egalitarian leader in the mould of Dr. Akanu Ibiam the first Governor of the defunct Eastern Nigeria who happens to come from thesame section of the State like Umahi is thrown to the centre stage of the politics of our country, Nigeria.
He ran and won the Governorship of Ebonyi state on the platform of the Peoples Democratic Party, PDP. Born on July 25, 1963 to late Elder Joseph Umahi Nweze and Margret Umahi of Umunaga in Uburu, Ohaoazara Local Government Area of Ebonyi state, Umahi received his secondary education from Ishiagu High School and the Government Secondary School of Afikpo before entering the Enugu State University of Science and Technology in 1982. He graduated in 1987 with a Bachelor of Science Degree in Civil Engineering.
In 1990, he co-founded Norman Engineering and Construction Nig. Limited with Ombo Isokarari, serving as its general manager until 1993. Until 2011, he served as chairman and CEO of Brass Engineering & Construction Nig. Ltd., Focus Investment Nig. Ltd., and Osborn La Palm Royal Resort Ltd.
Umahi entered public service in 2007 as the acting chairman of the Ebonyi State chapter of the Peoples Democratic Party. From 2009 to 2011, he served as state chairman of the party. During that term, he served a year on the governing board of the Federal Medical Centre in Asaba as its chairman.
In 2011, Umahi became deputy governor of Ebonyi State on a ticket with Chief Martin Elechi. In 2014, the then Governor Elechi supported Dr. Onyebuchi Chukwu, Minister of Health, as his successor, which Umahi said violated an understanding that he would take over from Elechi In October 2015, the legitimacy of the election was upheld by the Governorship Election Tribunal and later by the Supreme Court of Nigeria.
Umahi had defeated the then Labour Party candidate, Dr. Edward Nkwegu who came second in the disputed election. The result of the election was consequently challenged by his fiercest rival, from the tribunal to the Supreme Court and Engr. Umahi secured victory at every stage.
Having been a PDP chairman before being elected Elechi's Deputy in 2011, Engr. Umahi, who was adjudged by many sound politicians as an old broom that knows all corners of the house and therefore should sweep better in party politics, had tactfully warmed himself into the then PDP national hierarchy and the Presidency and proved himself as an outstanding political tactician.
 Umahi and His Titles 
Engr. David Nweze Umahi popularly known as Akubuorah for being one of the best Philanthropists from Ebonyi State. My uncle the pride of Ebonyi State is also the Okenwa of Uburu our home town. He has the singular honour of the first Uburu son to be crowned with the title of;
• Onyibe 1 of  Uburu,
• Adu 1 of Adu.
• He is the Eze Chinyere I of Ebonyi State.
• Dikedioranma 1 of Ebonyi South,
• Ochudo,
• Omereoha 1 of Ohahukwu,
• Omenka of Edda,
•  Ikenga 1 of Ezza nation, •  Ebube  Agu of  ishiagu, •  Udemba 1 of Ukpo and •  Achi n' agbara Oha 1 of Ishielu Local Government amongst several other traditional titles and unaccountable awards.
Below are direct links to the above conferred titles on Gov. David Nweze Umahi:
1.https://youtu.be/y8n0J-WZeI8
2.https://youtu.be/rG7hPFrmp3s
3.https://youtu.be/Grz5vy3A5g4
It is a fact undeniable that Umahi's unprecedented developmental strides which have benefited countless people stem from his political prowess and innate passion for humanity. His resoluteness and sagacity against all odds, his towering bravery and political heroism, only attest to God's abundant grace upon his life.
As much as it is impossible to in one article enumerate all the feats of this great leader from Ebonyi State, let me conclude by stating that if we are to judge Engr. Dave Nweze Umahi based on the realities of his feats in the governance of Ebonyi State, I can comfortably state that Ebonyians will continue to give him their full support and will cap it by overwhelmingly support him to enable him continue his good work,"
Let me formally conclude this treatise by declaring that the Lion of Ebonyi State at 57 has come of age and can now roar and let the world take note that Ebonyi will shine and shine to the glory of God
Happy birthday my leader, uncle and lion of Ebonyi State.Wishing you long life and more prosperity.
Monica Chidinma Eze is Technical Assistant (TA) on Media to Governor Dave Nweze Umahi