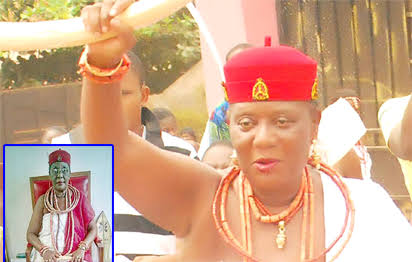 The quintessential female traditional colossus and Omu of Anioma, Her Royal Majesty (HRM), Obi Martha Dunkwu, would be speaking on the role of traditional institution in restoring lost values in the younger generation especially in the leadership space at the Centre for Values in Leadership (CVL).
The programme which is slated virtually for Sunday 6th September, 2020, will feature other prominent Traditional Rulers in Nigeria like the Obi of Onitsha, HRM Igwe Alfred Nnaemeka Achebe; Oni of Ife, HRM Oba Adeyeye Enitan Adewusi; Sultan of Sokoto, HRM Emir Sa'Adu  Abubakar; Regent of Ibulesoro, HRM Moyinoluwa Falowo; including Prof. Pat Utomi who is the organiser and moderator of the programme.
The Centre is organizing a programme on Nigeria History Series with the theme: Continuity and Change in Nigeria: Traditional Rulers as Voice of the People.
According to the founder and CEO of the Centre for Values in Leadership Nigeria History Series, Prof. Pat Utomi in his official letter of invitation to Obi Martha Dunkwu, "We have carefully selected prominent and passionate Traditional Rulers across Nigeria to deal with the topic of our discourse based on the burning issues on ground.
"Your life is an exemplary one in the history of Nigeria and it will be our honour if you can be a guest on the CVL NHS to respond to some of the questions needed to move Nigeria forward.
"The CVL Nigeria History Series aims at bringing back the lost values and ethics in the younger generation which was the norm in our heydays by engaging the progenitors of good values and ethics on the way forward to the restoration of the Nigerian State through decency, morals and ethics. By interrogating the past on where we missed it, we would be on the path to restoration. The younger generation is looking up to you and will be delighted to have you share with them your knowlegde of Nigerian history", the letter read.
Meanwhile, Obi Martha Dunkwu had responded by accepting to speak during the Zoom conference.
As a patriotic Nigerian who is pained by the mirage of leadership inconsistencies plaguing Nigeria, she had taken it upon herself to continue to speak truth to power in any fora she is a guest speaker or a participant.
Being her burning desire and passion to continue to mentor the youths and women, she would always hold Pat Utomi who is a likemind in the project Nigeria in high esteem. She believes the Professor had done so well for himself and humanity as a result of his focus on mentoring, progressive leadership trainings, capacity building of youths and honest models of doing business corporately and politically.