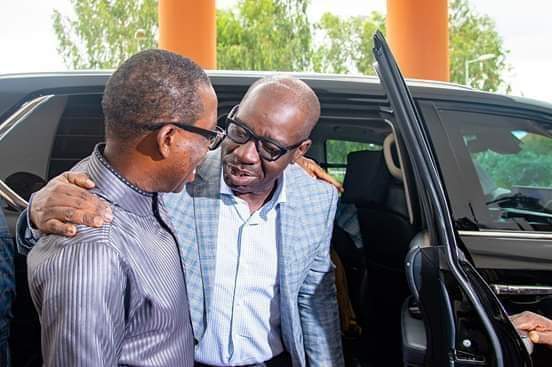 Indigenes and residents of Edo State have been assured that governor Godwin Obaseki, would consolidate on his first tenure achievements if he is reelected as governor of the state.
Delta State Governor, Dr Ifeanyi Okowa,
gave the assurance when he visited his Edo counterpart in government house, Benin City.
While stating that Obaseki's movement from the All Progressives Congress (APC), to the Peoples' Democratic Party (PDP), was for the good of the people of Edo State, he expressed support for Governor Obaseki's aspiration to become the governorship candidate of the PDP in the 2020 election.
He told the people that he was in Eeo state to rejoice with him, stating that Obaseki, was doing good work in his state.
According to the Delta governor, PDP runs an open door policy where no one with meaningful aspiration is denied.
Responding, the Edo State goverrnor, hinted that he would ensure that governance is closer to the people, assuring that the cordiality that existed among party members is sustained.
He vowed that his party would continue to leverage unity in the party and remain victorious.