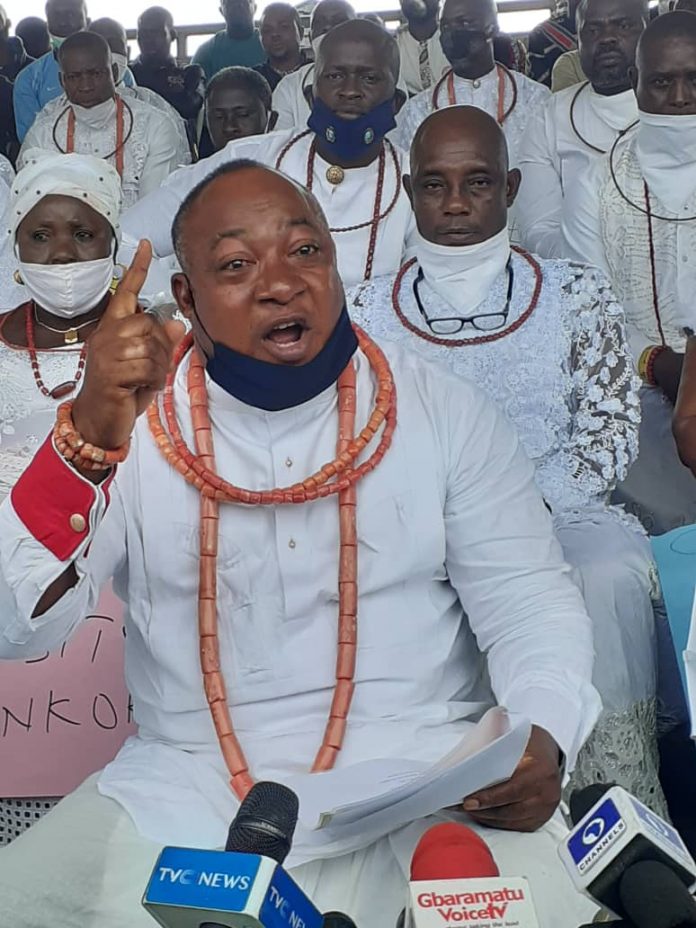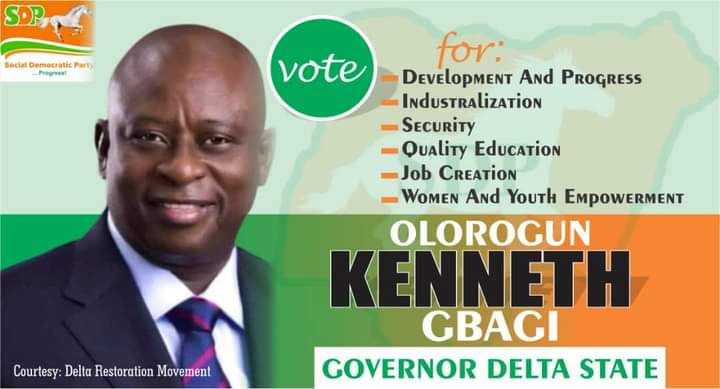 The crude oil production in Nigeria which is its major revenue drive may go zero production as oil and gas impacted host communities in Gbaramatu Kingdom, Warri south west local government area, Delta State have issue threat to shutdown all oil and gas facilities in their domain.
The threat is coming on the heels of the denial of Gbaramatu indigenes from the recently announced 57 Marginal Oil fields allocated to people allegedly not from their domain by the NNPC operators of the Department of Petroleum Resources, DPR whereby their people weren't given any right of bidding refusal before others.
Addressing newsmen at Oporoza, the traditional headquarters of Gbaramatu Kingdom Saturday July 4, 2020 through the Spokesman (Fiyewei) of Gbaramatu Kingdom, Chief Godspower Gbenekama, said the  Omadino-Escravos Okerenkoko road Project that was started and would have led to greater peaceful coexistence and dramatically improved economic relations between the neighbouring Omadino in Warri south local government area, has been put on indefinite suspension under the President Buhari Ied  federal government Administration, saying it is a project that is expected to bridge the Oil and Gas-rich Warri South and Warri South-West Local Government Areas that both continue to be exploited daily for the continued sustenance of the Federal Republic of Nigeria,  adding that the  road would have also cemented a working and more cordial relationship, aiding peaceful coexistence between the Ijaws and Itsekiris of Warri South and Warri South-West Local Government Areas that the road will pass through as well as increase in goods and services.
They added that "the  marginalisation is even more glaring in the abrupt abandonment of the Multi-Billion Dollar Export Processing Zone (EPZ) Gas Revolution Industrial Park, Ogidigben and Deep Sea Port Project, Gbaramatu Project that would have created thousands of direct and Indirect Jobs at a time where this Government's Job creation statistics and figures are taking a beating for not living up to the promises made".
The statement adds that "Gbaramatu, which spans a large part of one of three major Oil Producing Local Governments in Delta State (Warri South-West) is arguably one of the largest single benefactor Kingdoms of the Nigerian state. 
Despite this, those of us who live in these areas where these exploration activities are carried out have been marginalised, ignored, taken advantage of, all the while, suffering the devastating side effects of this exploration that has occurred due to an almost zero federal presence in our communities. While Gas is piped from our communities to provide electricity to the North, West and other areas, our communities are left to grope in darkness. For example, Azama and Inikorogha communities have been in darkness for close to 18 months because the light project where contractors are supposed to provide Diesel for the generator in use has not been happening. Contractors have neither been mobilised nor given approval to provide the Diesel the generator needs. This is the same case in Opuedebubor and Tebujor,  where the Nigerian Gas Company has welched on their responsibility to procure Diesel for these communities, leading to a state of perpetual darkness for the past 12-18 months. If this procurement process is not resumed immediately, we will be forced to stop pleading with the women of the communities who we have held back for months from going to the NGC office in Warri and occupying their offices. 
The presence of the ongoing Gas Generator project for these communities does not mean the communities should remain in darkness in perpetuity. The diesel procurement should continue until such a time as it becomes obsolete with the Gas Generator becoming operational. This continued darkness is untoward and has added to a myriad other issues like Pollution, poor sanitary conditions, total absence of potable water, lack of healthcare facilities to deal with the ailments that continued oil and gas exploration has caused. As we have shown, the federal Government owes a debt of gratitude to and a duty that can only begin to be repaid by fulfilling its commitments and obligations to the Kingdom". He stated.
Chief Gbenekama JP listed some of their urgent need among others to include the  immediate halt of  the current bidding process for the 57 Marginal Fields and come up with modalities where competent companies owned by Gbaramatu Sons and Daughters will be given the right of first refusal on fields located in Gbaramatu and within the Warri South-West local Government Area,  urgent and immediate relocation to Gbaramatu the Floating Dock/Ship Building Yard, which is a clear path to employment and appointment opportunities for their  capable sons and daughters.
In that letter, we they  stated that if their demands are not considered and modalities put in place for their achievement, they  will shut down ALL Oil and Gas operations in their homeland Ten (10 ) days after the publication of the letter. "That was 6 days ago, We have four (4) more days. We will follow through if the Federal Government insists on continuing this marginalisation and ignores our demands.
Cautioning that they do  not look forward to inflicting more of a financial burden on the Federal Government during these COVID-19 times, in four (4) days, reiterating that will shut down all exploration activities in their  Homeland. 
The Gbaramatu Kingdom Spokesman expressed dismay over the way  federal government have treated them describing it  is a massive slight, not only on a Kingdom that has partnered this Government on peace initiatives but is also a blatant and ill-advised attempt to deprive students of the Nigerian Maritime University,  Okerenkoko, such a brilliang learning opportunity. "This is a gross dereliction of duty and one we condemn in the strongest possible terms, they are also calling on the Nigeria National Petroleum Cooperation, NNPC  to  employ qualified Gbaramatu indigenes as they have capable infigenes who are most qualified likd others currently recruited from other areas.