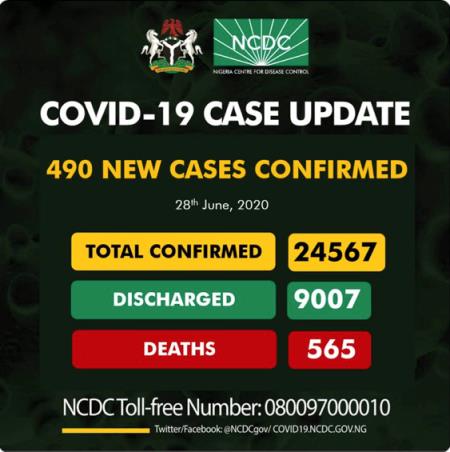 Nigeria currently has 24, 567 confirmed cases of Coronavirus following 490 new cases discovered.
The Nigeria Centre for Disease Control (NCDC), announced on Sunday night in the increase of the pandemic.
According to the agency, 20 states including the Federal Capital Territory (FCT), recorded new cases.
The Sunday night records put Lagos State at 118, Delta-84, Ebonyi-68, FCT-56, Plateau-39, Edo-29, Katsina-21, Imo-13, Ondo-12, Adamawa-11.
Other states are, Osun-8, Ogun-8, Rivers-6, Kano-5, Enugu-3, Bauchi-3, Akwa Ibom-3, Kogi-1, Oyo-1 and Bayelsa-1.
Presently, the country has a total number of 9, 007 discharged and 565 deaths.