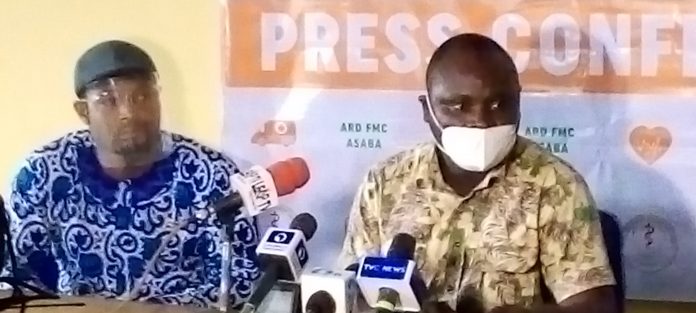 Doctors in Delta state under government employment have decided to withdraw their services as from Monday 27 July 2020, following a call from the state chapter of the Nigeria Medical Association (NMA), on their members to embark on a three day warning strike over non-payment of tax rebate, non-provision of Personal Protective Equipment (PPE), non-payment of Covid-19 Hazard Inducement Allowances among others by the state government.
Briefing journalists on Sunday 26 July 2020, the president, Association of Resident Doctors, Federal Medical Centre (FMC), Asaba, Dr. Nwabunor Osifo, disclosed that they would throw their full weight behind the warning strike.
According to him, the warning strike, is in solidarity with their colleagues in the state, disclosing that their colleagues in the state have not received a dime of the six months hazard inducement allowances promised to be given to them, regretting that only two months (April and May), have been paid to those in federal institutions.
Dr. Osifo, called on the Dr. Ifeanyi Okowa-led government, to comply and implement the agreement reached by the Nigeria Governors Forum, to Improve the welfare of doctors in the state.
He revealed that nationwide over 1027 doctors have been infected while 18 have died from the dreaded Coronavirus pandemic, disclosing that the state chapter of NMA, two weeks ago lost one of their best and finest doctors to the epidemic.
Hear him: "painfully against the backdrop of assurances given by the Nigeria Governors Forum on the speedy implementation of the Covid-19 hazard inducement allowances and tax rebate for our colleagues in the state employment, most states including ours are yet to do so.
"To this end, we throw out full weight in solidarity with the Delta state NMA as she had called out all her doctors on a three day warning strike effective from Monday 27th July 2020. As doctors practicing in the state, we want to join our colleagues working in Delta state University Teaching Hospital, Oghara, State Hospital Management Board, colleagues in Universities and other tertiary health institutions and embark on this course as injury to one, is an injury to all.
"As at today, over 1027 doctors nationwide have been infected and 18 have died from this monster virus. Just last two weeks on Delta State, the state NMA lost one of our renowned and finest doctors from Covid-19 illness and many others have gone down this way.
"I want to use this medium to appeal to the state government that they should comply with the agreement by the Nigeria Governors Forum to pay the Covid-19 hazard inducement allowances to our state colleagues and tax rebate to improve the welfare of our state colleagues because we are going through difficult task in fighting this virus.
"The three days warning strike is for all doctors under government employment working in Delta State and the demands of the state doctors are clearly spelt out: Provision of Personal Protective Equipment to be used by doctors in combating Covid-19, the payment of Covid-19 allowances Inducement fund for state doctors.
"Recall that of the six months promised doctors working in the federal institutions, only two months, April and May have been paid and the worst thing, our colleagues working in DELSU, Oghara, HMB, ministry are not paid, yet we are all exposed to the same virus. The issue of tax rebate should be given as incentive to our colleagues working in the state", pointing out that those working in isolation centres were exempted from the strike.
Dr. Osifo, lamented that isolation centres built by the state government are filled up following the increasing number of infected people, "at the beginning of the pandemic, the state government built so many isolation centres where confirmed cases are being managed but over time and with the continuous spread in the number of cases, all the isolation centres in the state are filled.
"That is why the state Covid-19 Response Team brought out a new protocol for Home Care Management. Which means patients who don't show any symptoms but are confirmed can be managed from their homes and they will be in close communication with the State Covid-19 Response Team. The State NMA has decided to exempt all doctors working in Isolation centres", Osifo said.
While adding that Covid-19 is real, he stressed that the virus is not malaria as insinuated in some quarters but had a mysterious effect just as he noted that some of the medications given to I'll patients of Covid-19 are similar to malaria but are two different sicknesses.
At press time, text messages sent to the Commissioner for Health, Dr. Mordi Ononye and his Information counterpart, Mr. Charles Aniagwu, were not replied.