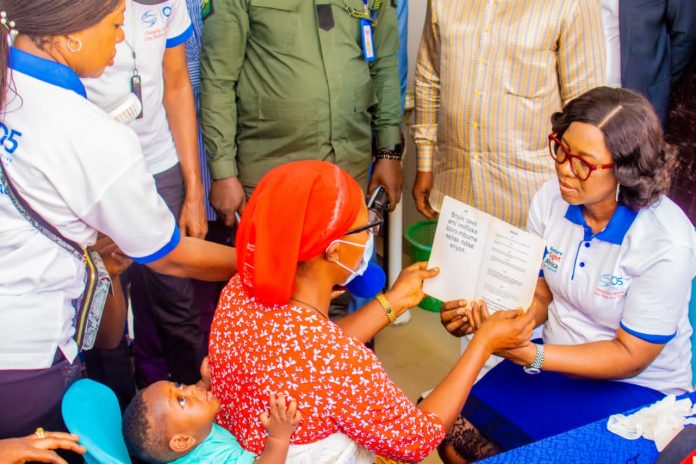 Wife of the Delta State Governor, Dame Edith Okowa, has flagging off another phase of her free grassroot medical outreach for residents of Ughelli/Udu Federal Constituency at Central Hospital, Ughelli, the administrative headquarter of Ughelli north local government area of the state.
The wife of the governor on Tuesday while speaking on the five day medical outreach in the Constituency, commended the leaders of the area for mass mobilization of the indigenes.
"I am happy at the huge turnout of people for this programme and I still encourage people to avail themselves of the opportunity to get their eyes restored".
Meanwhile, she noted that people should not see politics as a do-or-die affair.
"When people leave the House of Assembly, they want to contest for House of Representatives and when they are done with that, they are contesting for Governorship.
"There is no end to seeking political power because the more you get, the more your desire to acquire more.
"And we must be careful to note that political position or power does not guarantee peace.
"Worshipping God and serving Him is the only source of peace and true satisfaction", she said.
The Coordinator, Restore Sight Africa Initiative, Dr Ernest Ogbedo who is working in partnership with the First Lady's O5 Initiative, addressing the people emphasized that the programme was not meant for the elites.
"Often times, in the course of this programme, we have had people coming to mount pressure on us claiming they are 'Honourables' or special patients from political appointees.
"When we encounter such people, we tell them that the programme is not meant for them but for the poor who cannot afford to pay for it".
The programme also featured free cervical screening for women against cervical cancer.
Ughelli/Udu Federal Constituency is the fourth constituency to be visited with the free medical outreach this year and just on the flag off day, over 3000 patients were registered and numbered.
So far, close to four thousand persons have benefitted from Warri, Burutu and Patani/Bomadi Federal constituencies with close to 500 free eye surgeries.
The Chairman, Ughelli South Local Government Area on behalf of the other Chairpersons applauded the efforts of the wife of the Governor for restoring sight to their people.
According to him, "We have fully mobilized our people here and more are still on their way".