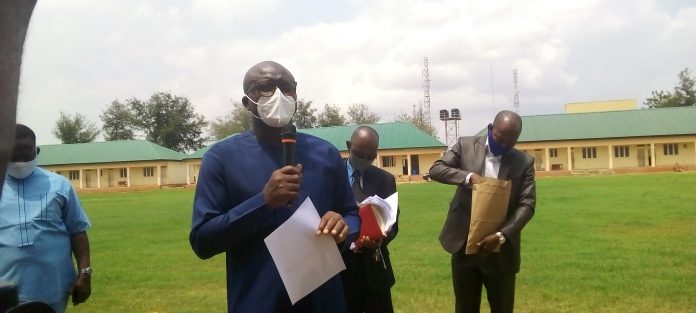 No fewer than 29, 525 students from Senior Secondary School would sit for the SS3 West Africa Examination Council (WAEC), across Delta state.
The state government has also put in place adequate measures to curb any eventuality that is capable of truncating the efforts of government just as it is in total alignment with the Federal Government's guidelines on COVID-19 protocols, as it regards the reopening of schools.
This was disclosed Monday by the State Commissioner for Basic and Secondary Education, Chief Patrick Ukah, while briefing journalists in Asaba, the state capital.
The Commissioner who said a maximum of 20 students would sit in each class in tandem with the COVID-19 physical distancing guidelines, highlighted the critical measures put in place to include fumigation of schools by Ministry of Environment, provision of infrared termometers, soap, hand sanitizers, revealing that hand towels and face masks would be distributed to each student and teacher in the state.
He further said that water storage tanks had been made available in schools for the supply of water, adding that sickbays had equally been provided where health officials would use for handling the treatment of any ailments, just as he emphasized that whenever there was any signs of COVID-19 ailment in any class, all the students in the class would be quarantined for immediate attention.
Hear him: "For now we are ready for any incidence and we are working with the ministry of health and environment and we are ready for any event that will come up. We are going to spread them out to make sure that the distances are there. In Delta we are very ready", he reiterated.
He revealed that teachers and students would undergo temperature check on daily basis, while a student and a teacher would serve as minders to ensure that they maintain the social distancing.
While commending the state governor, Dr. Ifeanyi Okowa, for his continued support to the ministry, especially towards ensuring that all the requirements for COVID-19 protocols were provided in the schools, the Basic and Secondary Education Commissioner said that a 5-man committee comprising officials of his ministry and that of Ministry of Health have been setup to monitor activities in the schools.
He reiterated that a total of 5, 697 teachers in both public and private schools were trained recently by the State Ministry of Health in collaboration with the Ministry of Basic and Secondary Education on COVID-19 protocols.
According to him, " we have taken note of some schools that have water but they don't have light. We have identified about 46 schools and we are providing generators for them to be able to power it. We have also provided fuel subsidy for them to be able to buy fuel for the generator. We als provided money for them to buy water for the storage tanks we are giving to them to be able to fill the tanks on weekly basis", stressing that they would be monitored by the Committee for the five weeks period they would be in school.
He noted that a toll free line and a response Centre have been established in the 25 local government areas just as he disclosed that a form would be given to students on the first day of resumption which they would take home and return the next day.
"That form is for us to be able to know their health status. If there is any child that has any underlining illness, we should be able to identify that child early enough at least three days of coming back to school and that will be given to the ministry of health, the form was designed by the ministry of health and we are going to circulate it to them", stating from have also been sent to those in boarding schools in order to know the status of those coming in to school.