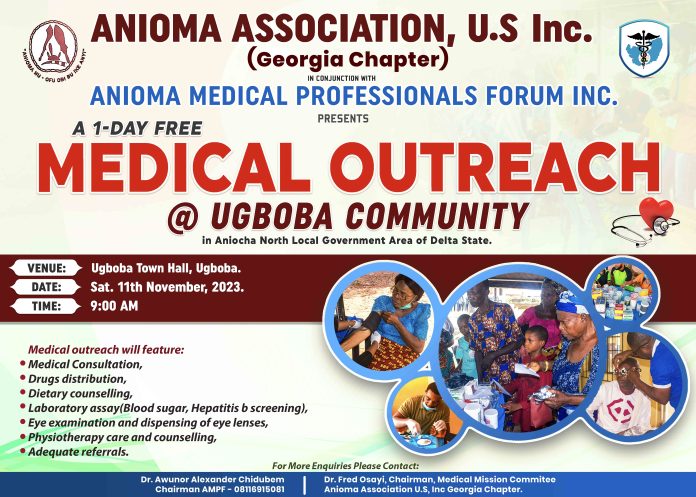 By Patrick Ochei
The Anioma Association, Georgia Chapter, United States of America has perfected arrangements to hold a one in town free medical outreach at Ugboba community in Aniocha North Local Government Area of Delta State.
The medical programme which is scheduled to hold for one day on 11th November, 2023, will feature medical consultation, drugs distribution, dietary counselling, laboratory assay (blood sugar, hepatitis B screening), eye examination and dispensing of eye lenses, physiotherapy care and counselling, adequate referrals, etc.
In a press release by the Chairman, Medical Committee of Anioma Association, U.S Georgia Chapter, Dr Fred Osayi with mandate from the Association's President, Pastor Emmanuel Nwoke, the 1-Day free medical mission would be in conjunction with Anioma Medical Professionals Forum, a body professionally on ground to help good intentioned individuals and groups to carry out various medical initiatives on voluntary inclinations within Anioma Nation and beyond.
The statement went further to invite patients within Ugboba Kingdom and environs to take advantage of the free medical outreach, programmed to give them the best of medical services in various aspects of their health.
According to Dr Awunor Alexander Chidubem, President of Anioma Medical Professionals Forum (AMPF), who had visited Ugboba community for an on the spot assessment, "We are ready and good to go. All arrangements are in top gear to execute the mandate of Anioma Association, US, Georgia Chapter to give the people of Ugboba one of the best free medical services in history since the inception of our NGO- Anioma Medical Professionals Forum.
"We have already met with the wonderful Monarch of Ugboba Kingdom, HRM Obi Ezedimbu Emmanuel Nkebakwu, who has promised to provide us with necessary assistance to ensure a smooth and efficient medical outreach in the community.
"All we need now is for the people to come out en mass to be checked of what may be wrong with them healthwise and be treated accordingly. We have all it takes to give them the best in medical services that day, because our partners are well prepared and capable to deliver their promise to the people", Dr Awunor explained.