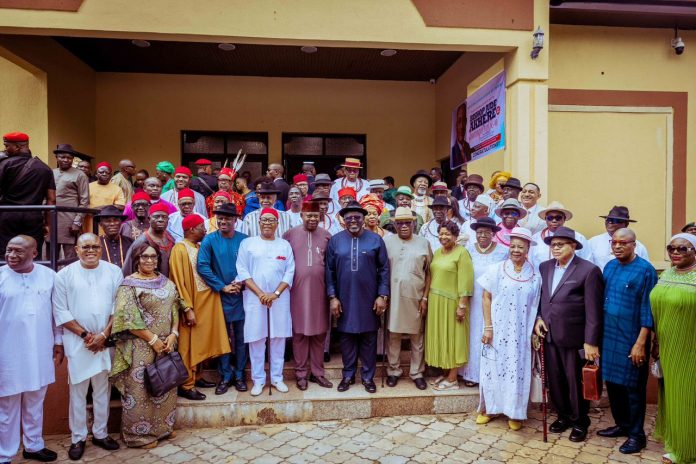 The 44-member Delta Advisory and Peace Building Council, has been charged to support the Rt. Hon. Sheriff Oborevwori's M.O.R.E Agenda with regular expert advice to foster inclusive economic growth, environmental protection, religious harmony and sustainable development of the state.
Governor Oborevwori, who spoke on Tuesday October 10th 2023, at the inauguration ceremony held at Unity Hall, Government House, Asaba, said the appointees were men and women of great wisdom, exemplary character, enviable
track record of performance and proven leadership qualities.
He held that the government and people of the state stood to benefit immensely from their wealth of knowledge and experience in both the public and private sectors.
Stressing that successive administrations since 1999 had made peace and security one of their cardinal objectives, he added  that his administration won't be an exception as no meaningful development could take place without sustainable enduring peace.
Governor Oborevwori said, "This administration is committed to ensuring that the peace we currently enjoy in Delta State is not only sustained, but also strengthened through our MORE agenda, which has Enhanced Peace and Security as the fourth pillar.
"This administration is mindful of the fact that the attainment of peace involves much more than using the forces of coercion to maintain law and order, especially when there is a breach of peace.
"While this administration will continue to deepen its partnership with the security agencies, we shall also ensure that those issues that threaten our peaceful coexistence and public safety are well covered in our policies and programmes.
"Towards this end, the MORE agenda is designed to foster inclusive economic growth, environmental protection, religious harmony, and sustainable development,"
The terms of reference and responsibilities for the Delta State Advisory and Peace Building Council are as follows: Study the general socio-economic and political situations in the State and render advice to Government;
"Advise on issues that can lead to healthy relationship between the Executive arm of Government, the Legislature, and the Judiciary, as well as the Local Government Councils;
"Reach out to and collaborate with traditional institutions, youth groups, Non-Governmental Organisations, socio-cultural organisations, and other relevant stakeholders through regular discourses on peace and security with a view to containing and tackling the sources that breed and encourage insecurity in our communities;
"Carry out in-depth studies and render advice on issues for the purpose of eliciting goodwill, instilling confidence, and fostering harmonious relationship with the Federal Government and other States in the Federation; Study the causes of conflicts among the various communities in the State and advise on measures to tackle them;
"Detect early warning signs and nip them in the bud to forestall escalation of conflicts; Advise on appropriate peace building platforms to ensure the successful implementation of the policies and programmes of Government; and deliberate and advise on any matter referred to it by the Governor,"
While congratulating the appointees, Governor Oborevwori prayed for God's wisdom, guidance, and enablement for them in the crucial assignment.
The Council has Professor Sam Oyovbaire as Chairman,while other members include Chief Dr. Chris Agbobu; Chief Benjamin Elue; Chief Nkem Okwuofu; Mlrs.Josephine Ada Kachikwu; Alaowei Broderick Bozimo; High Chief Gen. Broderick Demeyeibo (Rtd); Chief Mike Adiotomre; Hon. Anthony Akpomiemie; Chief Ignatius Agidi; Chief John Nwagimeje; Mr. Sam Nwa Igumbor and Chief Benson Iyama.
Others are Sir. Simeon Efenudu; Sen. Mrs. Stella Omu; Dr. Eddy Ugboma; Chief Emmanuel Onyeukwu; Rear Admr. Mike Onah Rtd; Chief Robert Onome; Avm. Frank Ajobena Rtd; Mr. Tony Monye; Ibonye Philip; Engr. Dr Pius Sinebe; Chief Mrs. Margaret Unukegwo; Chief Godwin Edeki; Chief Eddie Ono-Sorhue
Also inaugurated as members are; Chief Major Patrick A. Egone Rtd; Chief Emmanual Ogobene; Chief Sylvester Oduara O. Kohwo; Dr. Adogbeji Ideh; Dr Esther Uduehi; Chief Hope Erute; Hon Mrs. Irene Imilar; Chief Dr. Roland Oritsejafor; Chief Dr. Isreal Abido; Mr. John Edah; Chief Monday Arawore; Prince Igwe Nzekwe; Chief Iduh Amadhe; Chief Michael Eze; Rev.Gideon Oyibo; Bishop Benson Emorariemu; Bishop Jude Akhere and Bishop Godfrey Ekpenisi.
The Senior Political Adviser to the Governor Senator Emmanuel Aguariavwodo; Special Adviser on Peace Building and Conflict Resolution Chief Edwin Uzor and Senior Policy Adviser to the Governor Hon. Funkekeme Solomon are Ex-Officio members.
Responding, Professor Sam Oyovbaire commended Governor Oborevwori for an inclusive list and pledged the support and cooperation of the Council to the Governor's M.O.R.E Agenda.