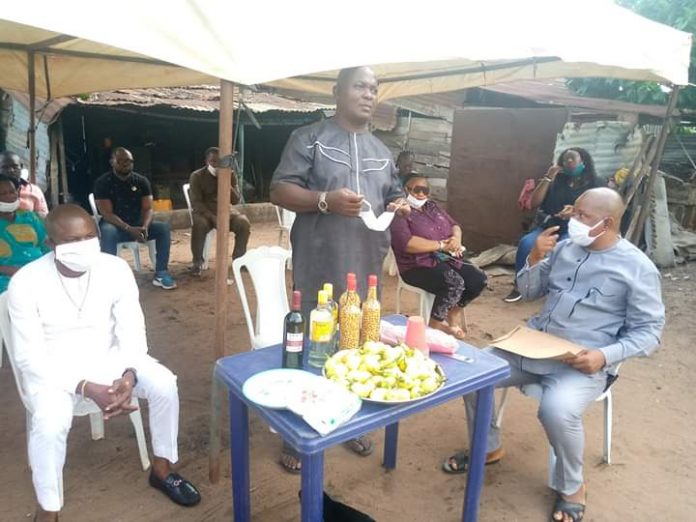 ...Juicily Reward Loyal, Hard Working And Committed Ward Members
Ward 4 elders, leaders and executive members of the Peoples' Democratic Party (PDP) Oshimili south local government chapter, challenged their ward and cell executive members to embrace and sustain progressive tendencies.
This call was made Friday, at the ward's maiden monthly meeting.
Addressing his ward and cell executives during his opening remarks, Mr Mark Ebenuwa, ward 4 chairman, welcome all to the meeting and congratulated them for emerging victorious as well as accepting the call to serve as ward executives.
He also ceased the occasion to express his gratitude to God Almighty for his protection over ward executives during these period of the dreaded global COVID-19 pandemic.
"This meeting will avail all of us present here, the opportunity to brainstorm and chat a new way forward for our party in the ward.
"The local government election is close by, as a ward, we will do everything within our powers to repeat our past electoral success stories, Mr Ebenuwa urged his executive members".
The ward's political elders and leaders present took turn in their goodwill message to sue for unity, peace and result oriented  constructive engagements for the interest of the party and ward.
Ogbueshi Adizue Eluaka, one of the ward's political elders present, appreciated wonderful contributions of many loyal, dedicated and committed ward members.
In appreciation for their loyal services to the ward, he handsomely pledged juicy financial rewards for them as well as promised them that more juicy goodies would come their ways as their loyalty to the party remains constant.
In a similar gesture, Hon Adim Nwaokolo, councillor representing ward 4 at Oshimili South Legislative Arm, pledged more handsome financial support for the Ward's proactive and loyal party members.
Ojugbana Godfrey, special assistant to the state governor on youth mobilization, promised to place three persons who distinguished themselves in loyal service to the party on monthly stipends.
Other ward elders and leaders, who spoke at the meeting, took turn to appreciate ward members commitment and strong zeal to support the party always.
They also praised the leadership prowess of their local government party chairman and promised to always work with the ward executives at returning massive electoral victory for their party in future elections.
Ogbueshi Dada Okonji, the party's local government chairman, in his address to the ward elders, leaders and executive members charged them to uphold increased brotherly love, maintain peace and unity in the ward.
"Ward 4 is a blessed ward, we are pacesetters, I encourage you to strive to build and leave lasting legacies for posterity, the LGA party chairman charged those in attendance".
He also ceased the occasion to return all glories to the Almighty for helping him to emerge victorious in the just concluded local government party congresses.
"Like I did in my first term, I am committed to lead with sound leadership qualities and create more opportunities for our loyal members, I also will at all times support the ward chairman and his executives, Ogbueshi Dada Okonji assured them".
He also appreciated efforts of past ward executives and encouraged the new executives to put in their best, as he wants the new ward executive members to sustain all their past electoral performance of the past ward executives, whose dedication, he said was instrumental towards all the party's electoral success stories.