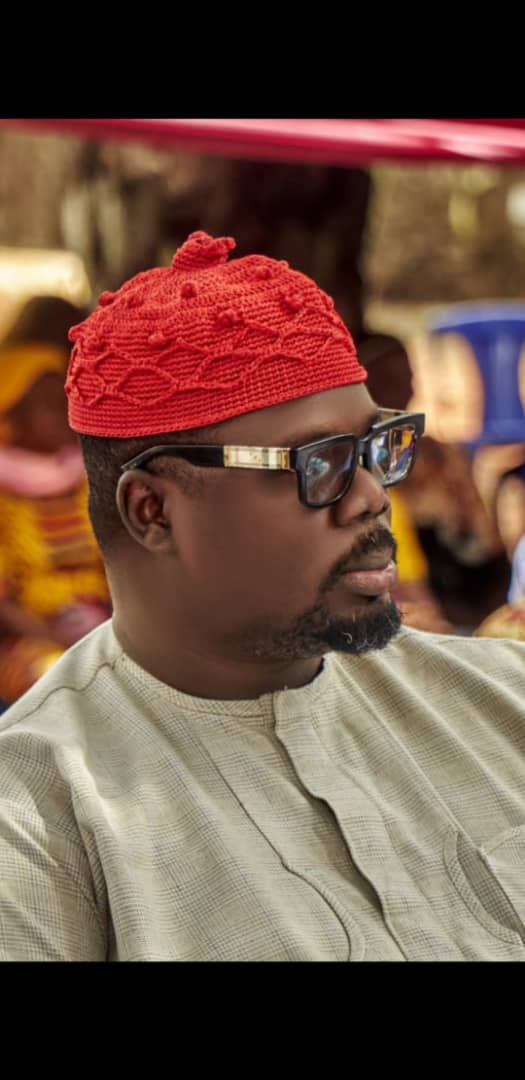 Igbodo is a Kingdom nestled on the fringes of eight communities within Delta State and Edo State. It is a beautiful town located in Ika North East LGA of Delta State, Nigeria. The town consists of six villages; Ilabor, Ndobu, Ikpekwu, Eyime, Ozei and Obior.
The Kings throne is in Ani- Ikpekwu village, the most populated are Ndobur and Ilabor village. The town is popularly call 'the food basket of Delta State' based on the community commitment to farming and Agriculture.
A visit to the Palace of the Obi of Igbodo, Obi Barr. Ikechukwu Nkeobikwu Osedume 1, in Ika North-East local government area of Delta State.
The road network that lead to the Palace showcased a tremendous transformation in every part of the community. The roads were beautifully tarred with trees of various food crops swaying left and right while yam farms could be seen cultivated in every environs of the community which showcased the town as the real food basket of state.
Also the town is blessed with standard infrastructure, consumables Agricultural produce, markets among others, coddle its landape, a pleasant makeover for a suburb much troubled earlier by endemic neglect and underdevelopment.
In Delta State, Igbodo is a potential wealth mine, especially for young people interested in small and large-scale agriculture. A good portion of the land still remains uncultivated as almost every family mainly indulges in subsistence agriculture.
In an interview with the reigning ruler of Igbodo, HRM, Obi Barr. Ikechukwu Nkeobikwu, he disclosed that Igbodo has been a developing and peaceful town before he took over the throne 16 years ago.
When I came in we have just one tarred road (old road) but since I came on board I believe there is no road that is not tarred in this community.
And since inception of the community, let me say, I am the luckiest Obi so far, from the outpour of love from my people, care from my people, support from my people and peace in our land. "Our people are predominantly farmers and we are doing great in farming business till date.
Speaking about his throne he said: "The day I was enthroned, the only prayer I made to God was that He should help me never to be partial in my judgment I told Him to help me so that I don't see white and call it black, or see red and call it purple.
"I know, I try as much as possible to maintain that, except I don't have adequate information, and that is the confidence, the trust sincere people have on the throne.
As to the good times, I will say kingship comes with a lot of glory. It comes with authority, loyalty and submission. My coronation for instance was glorious.
Even, the deputy governor then, Amos Utuama said since he had been attending coronations, he had never seen any as colourful and attended as Igbodo's coronation. Even, some of my friends that came for the ceremony, were unable to get to the palace because of the mammoth crowd. It was a clear show of love from my people.
Also, when I traveled to the United States of America, Igbodo people over there gave me a royal welcome party. They even invited their friends from other tribes to join them in receiving their king.
When I got to Dallas, it was party all night. It was really fun and glorious. I really felt honoured. I am happy on the throne because my people both at home and abroad made it so.
On the issues facing his marriage he said: "In the fight for peace, I have been through a lot. Even my private life was all over the globe. ThankGod I have resolved the issues of my marriage. And I have done what the people what me to do regarding that aspect of my life.
The sixteen years have so far been of mixed feelings. There have been the good times, the very good times, the bad times, and the very bad times. But, that is what leadership and the throne is all about. Even, life in general is not all rosy. The bible tells us that there is a time and a season for everything under the sun.
In all, I would say, the love of my people has held me strong. The trust, believe and confidence reposed in me have kept me going. Sometimes, some people may say unpalatable words and will be furious saying all manner of things when some laws and judgments do not go in their favour, or the way they had thought it would go.
Some of these things really get me disturbed. But then, when I am sure that I never did that out of partiality, hatred or indiscriminate use of office, I summon courage to let their ill talks go off my mind.
As a community we will not relent in fighting against crime and bringing in peace on Igbodo.
We have Zero tolerance for sabotage and the people who constituted problems and security risk on Igbodo
According to him, the Obi of Igbodo is the respected traditional ruler recognized by the government. Also serve as the traditional and political head of Igbodo kingdom flanked by the council of chiefs in the republican saddle. I am the chosen one and nothing will happen to me.
Move round Delta State, 80 percent of the traditional Rulers are in power tussel with the President General. Some of them even go as far as causing disunity because of their position, this is because they want to control the Obi. And it may not be easy for them.
Traditional rulers are spiritual custodians of the land. They are the original fundamental roots of society from where every development emanates. They have theocratic powers. They are born only to be venerated, not violated. Whether by hereditary or selection.
I want people to know that, I am loved by my people, the Obi deserves all support, cooperation and goodwill to reign peacefully over Igbodo community, the beautiful bride basking in enchanting diversity and development.
According to him, the experience has been scintillating because of the love from the people of Igbodo
Speaking further he said, one of the primary function of the Obi in the community is to resolve issues and disputes within the community and protect the interest of the people. And by the grace of God, I have been doing this diligently with all pleasure. We have peace today in Igbodo and unity among our people.
By background, temperament and socialization, Obi had continued to symbolize the history, strength, reputation, traditional norms and values of the community.
Speaking on the challenges facing the community and why he was accused of having issues with the President General of Igbodo kingdom?
Every community, has it's challenges, ranging from one crisis to another, but the ability to restore peace in the community is paramount. In every community, there is an opposition, people who don't want peace, progress and they are always at the negative side. some times, it can be instigated or sponsored by group of men who don't believe in the prosperity of the community while others can be power drunk with pride to bring conflicts to the Community.
We have them here, in this town, two years ago, this same set of persons wrote petition to the governor against me, copied the DSS, Commissioner of Police, Ika North East Local Government Chairman and the Delta State Traditional Rulers Council Chairman,
The DSS investigated me in this community for almost a week and I don't know, asking people about all sorts lies, they ganged up against me and my community. They lied that, Igbodo is on fire, Igbodo is seated on a gun powder, there was war in Igbodo, there is crises in the land, no body is safe here and malicious statements about me. And the security men, especially the DSS, did their investigations and report back to the Governor to explain the truth to him, that it was a ganged up against me.
Do you know that after one year, they are still looking for how to drag this present administration into their propaganda? The truth is the President General of igbodo Community worldwide, Elder Matthew Okwaje tenure was disolved after a Five Man Member Committee did their Investigations and gave Igbodo a report of their findings which indicted Okwaje of 24 million naira and he refused to respond to invitations from the people base on this, Igbodo people ask him to step down with his Executives.
It's the people that took the decision not me, the Obi. Another issue came up when he borrowed N700,000 from Anieme village Lagos branch, of Igbodo Development Union. They wrote me that my PG, borrowed money for them for SEEFOR project and counterpart funding for Hospital Projects in the community, and since then, he didn't refund the money.
Even the Obi in Council, didn't know anything about it. When he was questioned about the millions he took for SEEFOR project, he refused to respond, So people started agitating they look into his financial records and he was found guilty.
Since 2020, the committee has been acting in that capacity. For the committee findings of 24million, the P.G should refund us our money.Maybe that's the reason for all just to distract us.
The people he using maybe beneficiaries of the 24million he couldn't account for His second tenure expired in 2021. He has no capacity to call for IDU meetings. until Igbodo is ready to conduct another election and that is where we stand.
On the transformation story, The royal father said, "I will like to appreciate one of our illustrious son, Hon. Victor Nwokolo, House of Representative Member, representing Ika Constituency for his continuous support to bring in development in Igbodo Kingdom, the Government of Delta State for their tremendous support in maintaining peace and continually coming to support our people by pushing in development.
I want to thank our son's and daughters in and out of diaspora who have contributed to the development of the town as Igbodo private or our own collective project. Today every road in Igbodo is tarred.
Infact, our community is beautiful and the phenomenal transformation of Igbodo has attracted a burgeoning population of aborigines, civil servants, entrepreneurs and strangers numbering a huge population, to place the community in an all-time flourish and social conviviality" today, we have Customary Court in Igbodo built by us as part of our community effort to support the government, the magistrate court was also built by Igbodo people, the Police Division was built by our people, our hospital is well equipped and health centers, Our schools are well built, the Primary and Comprehensive high school, we have done a lot to transform the community.
On the beautiful culture of Igbodo people, the monarch said, Culture is the lifeblood of a vibrant society, it is our way of life and identity. It's expressed in the many ways we tell our stories, celebrate, remember the past, entertain ourselves, and imagine the future. Our creative expression helps define who we are, and helps us see the world through the eyes of others.
Every year, from August ending to September ending, we celebrate our culture and dance for a bountiful harvest through our festival called Ogbanigbe and Iwaji ( New yam). The Iwaji day is the day set aside for the Obi to cook for all Igbodo people to eat and feast which signifies amthe end of the farming season.
The Ogbanigbe festival is an essential event for the people of Igbodo as it helps to preserve our cultural heritage and promote unity and understanding among us, and also serve as an excellent opportunity for visitors to experience the richness and diversity of the Igbodo culture firsthand.
Our culture is getting stronger day by day, we have best food and farmers in Delta State. Let me say we are the jewel and the food basket of the big heart.
Encouraging the people Obi said, As a community we stand to resist any person or people that will cause conflicts on our land or steal away the peace of our community. And I want to encourage every Igbodo son's and daughters, not to allow this people, looking for power relevance to distract us and change our focus. We are great and united people, with continous unity, we will overcome.
How do you relax, Your Majesty,?
I read a lot, watch football and travel if need be.. I also love books.
What turns you off? Lies.