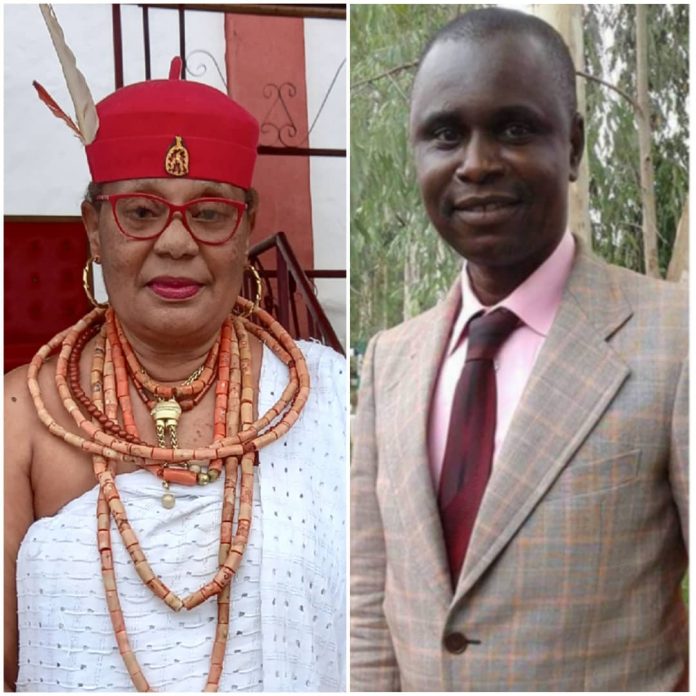 By Patrick Ochei
The cerebral Royal Mother of Anioma Nation and media colossus, HRM Obi Martha Dunkwu, Omu Anioma has congratulated Comrade Churchill Oyowe, brand new Chairman of the Nigeria Union of Journalists (NUJ), Delta State Council.
Omu Dunkwu in a statement through her media consultant, Comrade Patrick Ochei described Oyowe as a square peg in a square hole, affirming that the Deputy Director in the State Ministry of Information is capable and eminently qualified to pilot the affairs of the Union in the State.
She eulogized Oyowe for being humble and respectful to the veterans of the media profession, adding that the new chairman was among the Journalists who accompanied her from Delta State to Nsukka in Enugu State, for her coronation as NNEOHA (MOTHER TO ALL AND MOTHER WITHOUT BORDERS) in 2020.
Omu Dunkwu, described as Royal Image Maker, assured Oyowe and his team of a space always in her Palace, for consultations and anything they may so desire to achieve through her.
According to the Queen Mother, "I am proud of Comrade Churchill Oyowe for not relenting in pursuing what he had dreamt of, by going ahead to prove once again in an election, that he is capable of leading the NUJ in Delta State. I can only advise him to unite all the members of the Fourth Estate of the Realm and strive to raise the bar of media practice in the State.
"He has always been there for me, even in trying times. I promise to be here for him, now that he has greater responsibility entrusted to him for the management Journalists in Delta State. I have no doubt in his person, that he will do well and bring glory to the NUJ.
"I congratulate him, and assure him that my Palace is always opened to working with him. This is because, I believe that the NUJ under him will perform creditably", Omu Anioma posited.
Comrade Churchill Oyowe was a former Secretary of the NUJ Delta State Council, and currently a Deputy Director in the State Ministry of Information.