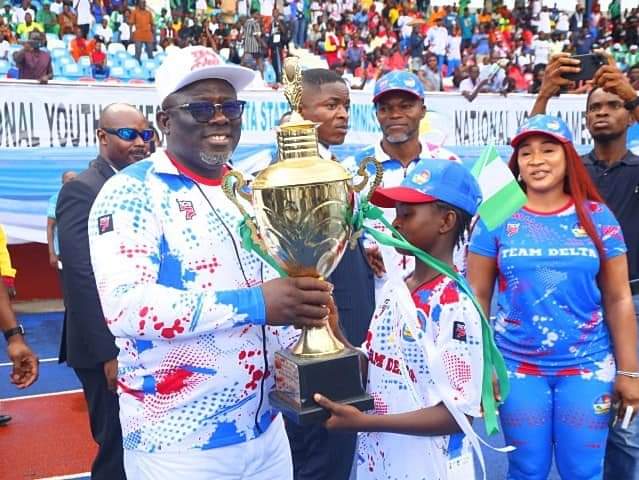 Spokesperson of the Peoples Democratic Party PDP, in the 2023 general elections in Delta State,, Dr Fred Oghenesivbe, has congratulated Governor Sheriff Oborevwori and Team Delta for winning the 7th National Youth Games with a total of 116 medals, describing it as heartwarming and at the same time worthy of our collective celebration.
He said: Delta youths have again displayed capacity, national supremacy and utmost
relevance, pointing to show that they must be taken seriously asb stakeholders in governor
Oborevworis MO.R.E agenda, and his quest to advance the state in all ramifications, including sports development.
According to him, Team Delta and their handlers obviously opened up their hearts, body, soul and spirit to give the state their best at the just concluded national youth games in Asaba.
They exhibited high level confidence, amazing strength, proficiency craft, maintained a well nurtured champions mentality and decorum.
"Their patriotic spirit, resilience, fearlessness commitment and determination to make Delta
proud for the seventh consecutive time was glaring and commendable. I can imagine the
overflowing joy in the heart and soul of our excessive local content governor, Elder Sheriff Francis Oborevwori. To God be the Glory!
"The victory, being the first in national competition in the life of this administration, connotes a positive sign and a good omen
flowing from the throne of Grace, confirming the divine oil placed on the state leader and governor.
"This good start is indeed a unique sign of good things to come, and must of a necessity be appreciated with a "Special Thanksgiving Service."
"The team blew my mind, thrilled Nigerians, gave Delta overflowing joy and they majestically walked away gallantly from Stephen Keshi International Stadium, with the
giant size trophy and with their "big hearts" in tact as overall champions of the games.
"I saw our superstar Delta Team beaming with mesmerizing smile into legions of news media
cameras, raising their champions gold trophy high and above that of their competitors. It was
colourful and remarkable.
"Governor Oborevwori who was ably represented by Delta Secretary to the State Government (SSG), Dr Kingsley Emu, commended Team Delta for putting up brilliant and wonderful performances." Oghenesivbe said.