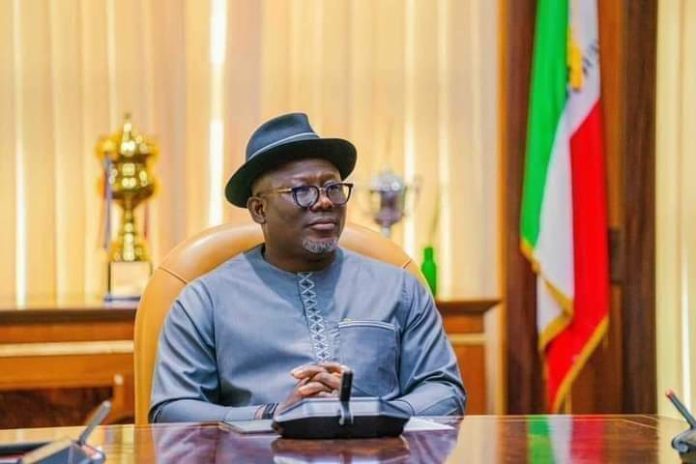 Delta State Governor, Rt. Hon. Sheriff Oborevwori, Friday, called on Nigerians to live a life of impact for the good of society.
Governor Oborevwori made the call in his remark at the funeral of late Ezinne Gold Egege at Amuke autonomous Community, Isiala-Ngwa South Local Government Area of Abia State.
The late Egege is mother to Mrs Catherine Onyeme, wife of the Deputy Governor of Delta State, Sir Monday Onyeme.
Speaking at the ceremony, Governor Oborevwori said that there was never a good time to die and charged Christians to live a life of great impact while they are still alive.
According to him, Mrs Egege lived a life of great accomplishment and impacted positively on humanity and her community.
While commiserating with the bereaved family, the Governor thanked the Abia State Government for their support and prayed God to grant the deceased eternal life.
He commended Governor Alex Otti for being a good host and promised to invite him to inaugurate projects in Delta in no distant time.
He said: "I went through the biography of our mother, Ezinne Egege and a lot has been said about her for the lives she touched while she was alive.
"You will not be remembered for the wealth you have acquired or the things you have achieved but for the lives you were able to touch and impact in the community.
"There is no particular time to die, death will surely come when it will come but in all, we must live a legacy behind.
"Ezinne lived a good life and our prayers are with the Egege family on this great loss. I thank God I made out time to come celebrate the life and times of a great woman, who loved her people."
On his part, Abia State Governor, Dr Alex Otti, said the late Ezinne Gold Egege was a great mother, who served God well during her life time.
He said the deceased lived well and impacted lives, saying "It doesn't matter how many years one stays in life, it is how well you lived your life not how many years one lived."
He lauded Governor Oborevwori for the great work he was doing in Delta, especially in caring for the welfare of workers and the down trodden in the society.
"I want to thank you for the important things you are doing for Deltans, especially your care and love for human beings.
"It has come to my knowledge that you have set aside so much money in paying salary and pension arrears and even supporting struggling families.
"That is what governance is all about because each time governance moves from human being to some other things, you have failed as a leader.
"This is not about stomach infrastructure but a structured system to move people out of poverty and a system where people will have money in their hands to buy whatever they want," he stated.
Deputy Governor of Delta State, Sir Monday Onyeme thanked all guests for honouring their invitation, adding that his late mother-in-law lived a fulfilled life.
He commended the Abia State Government for their support towards the success of the burial of his late mother-in-law.
Earlier in a sermon titled "His Great Promise," the Archbishop of Aba Province (Anglican Communion), Church of Nigeria, Most Rev'd Isaac Nwaobia, harped on the need for Christians to live according to the Biblical dictates of God to enable them receive eternal blessing from Him.
Most Revd. Nwaobia said anyone who lived a life pleasing to the Lord would receive the promise of God, which he said has to do with eternal life, pointing out that it was what Christians did here on earth that determined where they would spend eternity.
He disclosed that the deceased, Late Ezinne Gold Egege, lived a fulfilled life, as she impacted positively on humanity during her life time, and prayed God to grant her soul eternal rest.
The funeral was attended by wife of the Governor, Deaconess Tobore Oborevwori; Speaker of the Delta State House of Assembly, Rt. Hon. Emomotimi Guwor, his Deputy, Rt Hon. Arthur Akpowowo; State Chairman of the Peoples Democratic Party, Chief Kingsley Esiso; Bishop of Ndokwa Diocese, Rt. Rev'd Festus Nwafili among other dignitaries.