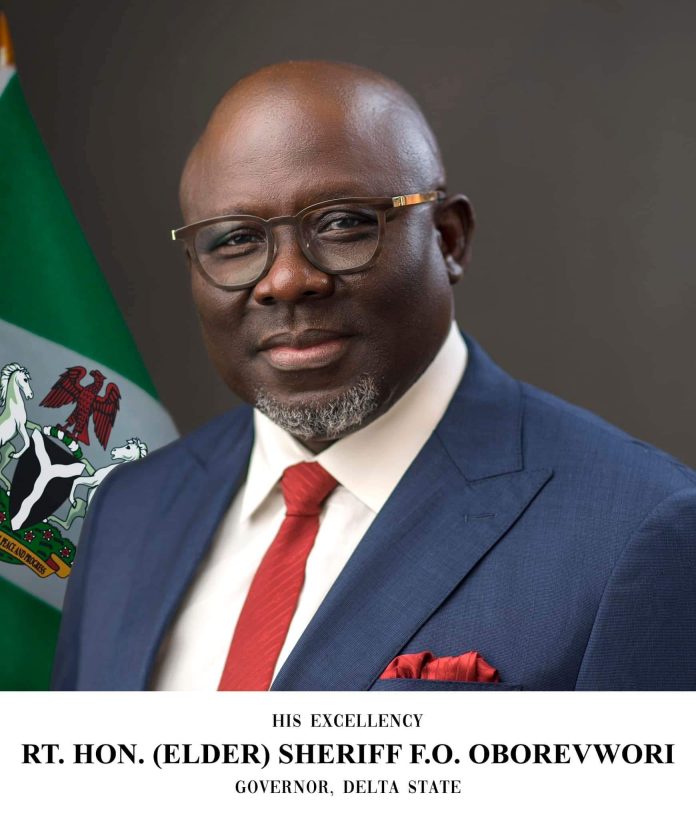 Delta State Governor, Rt. Hon. Sheriff Oborevwori has proven not to mince words in his resolve to attract meaningful development to Delta state, particularly, infrastructure and urban renewal.
The governor's determination was made more manifest yesterday at Ibusa Road (Koka Interchange axis) where the Commissioner for Highways and Urban Roads, Hon Reuben Izeze inspected the drainage project on that corridor.
The project, titled ''Construction of a Drainage Channel" from the Koka Flyover through Agbalusia-Ngene Street, Dominic Okobi and Engr. Egbuniwe Street to the discharge drain at FCE(T) Asaba in Oshimili South Local Government Area'' measures a total length of 2.8km.
"The contract was to downstream the Koka Interchange to take water from the adjourning streets to a natural canal that had been de-silted by the state government. But when the governor came to inspect that project, he noticed the floods on this part of the road.
''Therefore, he decided that there was a need to address the challenge that residents were subjected to whenever it rained" That necessitated another 1.3km added to the original contract length of 1.5km of drainage.
''It is part of the ongoing consolidation of what was done in the Asaba metropolis by the previous administration. Governor Oborevwori promised Deltans MORE and that is exactly what he is doing.
"Without any fear of equivocation, the governor's vision will come to fruition at the appropriate time and Deltans will be the ultimate beneficiaries'' he said.
Hon. Izeze added that the estimated time for the completion of the project was six months, adding, ''I believe, from what I have seen so far, that before the end of that estimated time, the contractors would have completed the project''
Accompanied by the Director, Urban Roads, Engr. Solomon Akpotohwo, Hon Izeze assured that the state government would not tamper with private properties in the cause of the project without having compensated the owners.