Isoko ethnic nationality of Delta South Senatorial District, has laid the foundation symbol called Isoko Unity House, in Oleh, Isoko south local government area of the state.
In his welcome speech, Saturday, the Commissioner representing Isoko Ethnic Nationality on the board of Delta State Oil Producing Areas Development Commission (DESOPADEC), Arch. Joseph Ajiri Ogeh, said the Isoko Unity House has always been his priority and expressed delight that the project is commencing before the end of his tenure.
According to Arch. Ogeh, the project which comprises of a major gallery of 5, 000 capacity, Committee rooms of 100 people, Offices for IDU Executives, Event Centre with Shops, Restaurants and a large car park is expected to be completed within 24 months subject to availability of funds.
According to the Commissioner, the project was carefully designed to include other ancillary structures like Events Centre, shops, restaurants etc to enable the IDU rent them out to generate little funds to maintain the structure when completed.
Asked why the project took so long to commence, the Commissioner said "the land was acquired less than two years ago and in any major project like this, there are procedures and processes in which contracts are awarded, process of design, planning, surveying, preparation of Bill of Quantity and all that and these takes quite some time. If you don't plan properly for a project of this magnitude then you have planned to fail.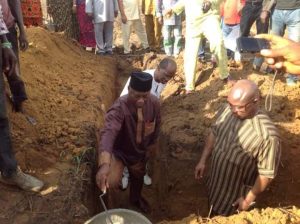 "If there is any project I actually dreamed to achieve during my tenure as Commissioner for DESOPADEC it's actually this project."
Also, the President-General, Isoko Development Union, (IDU), Major General (Chief) Paul Ufuoma Omu (rtd) laid the foundation for the construction of Isoko Unity House at Oleh roundabout Oleh.
Speaking to newsmen after the foundation laying ceremony, President-General of the IDU, Major General Chief Paul Ufuoma Omu (Rtd) thanked God for making the project a reality during his tenure.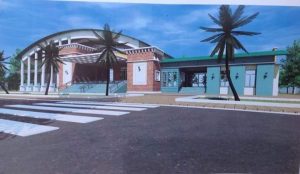 "I thank God almighty for this day that during my period and term as President-General of the Isoko Development Union, the building of the Isoko Unity House is coming to fruition. It is a special blessing and I thank the Lord almighty for that.
"Just as the name of the house Isoko Unity House implies, It therefore shows that we must be united as a people to achieve anything we want to achieve.
"It will further gladden my heart if the project can be completed within my tenure as President General", he added.