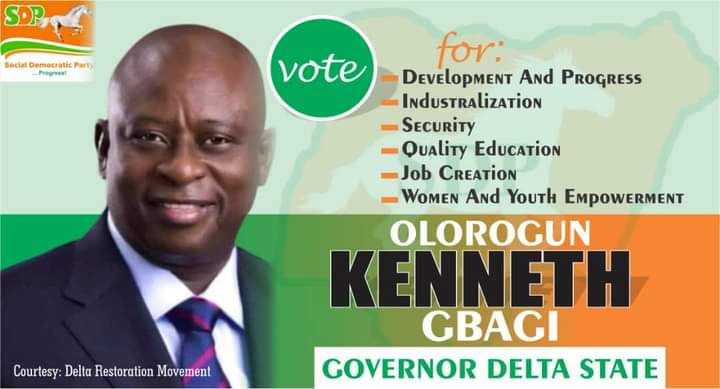 Governorship candidate under the auspices of the Social Democratic Party (SDP), in the March 18th 2023 election in Delta State, Olorogun Barr. Kenneth Gbagi FNIM, OON has rejoiced with his friend cum founder of God's Will Mission, Archbishop Solomon Gbakara, whose son, Victory, won the season 8 edition of the Nigerian Idol Competition.
Gbagi, a former Minister of State for Education cum owner of Gbagi Foundation, a platform he has used to touched lives in various ways congratulated Victory Gbakara, the winner of Nigerian Idol Season 8, whom he described as a true son and proud ambassador of Ughievwen kingdom.
The son of the seasoned preacher and personal friend to Gbagi, a philanthropist, emerged winner of the Reality TV Show on Sunday, after defeating fellow finalist, Precious Mac, from Bayelsa State.
In a statement by his Chief Press Secretary, Kenneth Orusi, Gbagi said that the 26-year-old lawyer, singer, songwriter, performer and music minister was impeccable throughout the competition.
He commended the organizers of the show and the panel of judges for the perfect organisation, leading to the emergence of Victory, the music performer who hails from Usiefrun town in Ughievwen Kingdom, Ughelli south local government area of the State.
While urging him to put the N35 million cash prize into judicious use, the largest private investor in the State, said: "It is with great delight that our son, Victory Gbakara, won the #NigerianIdol Season 8 competition.
"He has portrayed that Ughievwen kingdom, Ughelli south and Delta State truly have talents that his government by the special grace of God, will harness through the entertainment industry.
"On behalf of my family and the Ughievwen kingdom, I thank Deltans and indeed, all Nigerians that supported you to clinch the prize money as winner of Nigerian Idol Season 8.
"Indeed, beyond the prize, Victory, reached greatness with his God-given talent and distinguished himself as a role model and I am very happy to have him bring honour to his father, my friend, the church, Ughievwen kingdom and indeed the State as a whole.
"It was a remarkable display of the "Delta no dey carry last" and the spirit of excellence that lies within. I am deeply proud of him".
It would be recall that the live show began on Sunday, May 28, 2023, with top 10 contestants after a fierce battle and final judgement of Theatre Week.