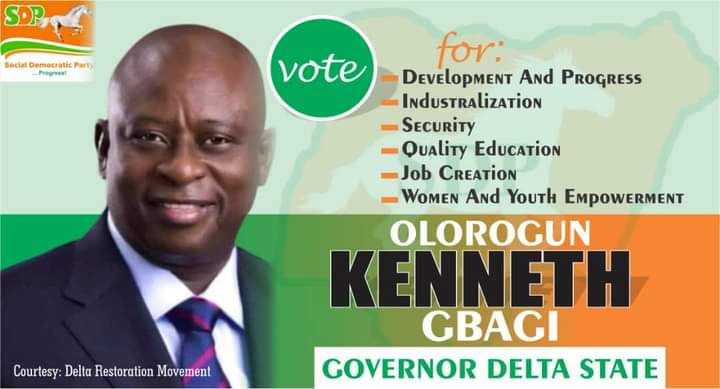 As the race to the local government election comes closer in Delta State, there are movements from one political party to the other.
Chairman, Otu-Jeremi Community and one time Councilor representing Jeremi Ward II in Ughelli south legislative Arms Hon Oghenegueke Michael on Saturday decamped from the All Progressives Congress (APC), to the Peoples' Democratic Party (PDP), with over 300 supporters.
Those that were physically present at the event were representatives picked across the the wards in Ughelli South, in adherence to COVID-19 safety protocols, the leader of the group, Hon. Michael informed the gathering that hisfollowers are over 3, 000 in number across the 11 wards in the local government area.
He said he resolved with his followers to decamp to PDP because of the success so far recorded by the state governor Okowa in the state and the unity among leaders at the Ward and state levels.
Michael took a swipe at the leadership of the opposition party in the state, describing the ongoing leadership tussle and cold war in APC as very unfortunate and counter-productive.
He also claimed the APC lacked unity of purpose, direction, cohesion of ideas and coordination, alleging that the party was "notorious" for propaganda, "These were some of the key reasons that informed our decision to decamp to the PDP", he said.
"Along the line, the centre cannot hold and things fall apart as a result of injustice, lack of fairness, recognition and sense of belonging to the party members. PDP made me who I am today" he added
Welcoming the decampees, the Ughelli South PDP chairman, Hon. Michael O. Djegbe, described the development as unprecedented, assuring the new members that they would enjoy same rights the existing party members enjoy without discrimination.
While addressing the decampees, the Jeremi Ward II, PDP boss, Comr. Akpojiyovwe Onos describing Hon. Michael, as a key political figure in Ughelli South, particularly in Jeremi Ward II and Otu-Jeremi Community.
He advised the decampees and all PDP party faithful to respect elders and leaders of the party, which he said had been one of the core values and pride of the party.
Those present during the ceremony include; Hon. Prince Marculey Dase, Chief Eric Sajini, Prince Solo Ugen, Prince Brume Dase, Chief Fidelis Obruche Tuvatah and Olorogun Samson Janughan amongst others.
It would be recall that Edo State goverrnor, Godwin Obaseki, resigned from APC and joined PDP to continue his ambition to fulfill his second term bid.