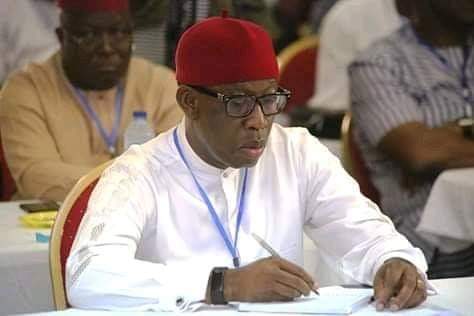 It had become obvious that community transmission of the virus had reached an alarming and frightening proportion, Delta State Governor, Dr. Ifeanyi Okowa, has said.
In a statement personally signed by him on Saturday, the governor said that it was regrettable that many persons still think that the Coronavirus disease was a hoax, regretting the increase of Covid-19 in his state.
"It cannot be a hoax when over 20 persons have died including some prominent citizens.
"Therefore, I want to make a passionate appeal to all Deltans to please realise that the Coronavirus disease is real,'' disclosing that as at Saturday, the number of confirmed cases of the virus in the state was 781.
According to him, on Thursday, June 25, 2020, Delta State recorded 106 cases, coming only behind Lagos, the epicentre of the pandemic, noting that the latest figure from the National Centre for Disease Control (NCDC) shows that on Friday, June 26, Delta recorded 66 additional cases.
The governor warned business owners to ensure that customers comply with relevant preventive measures aimed at curbing the spread of the pandemic.
Hear him: "In addition to providing hand wash stations/alcohol-based sanitizers, banks, salons, supermarkets, stores, and malls MUST deny entry to patrons without facemasks. Where there is more than one person, occupants of private vehicles MUST also wear face masks".
According to the governor, "The number of guests at social events such as weddings, funerals, traditional marriages should not exceed 50 with appropriate physical distance set in place. People without face masks MUST be turned back. I also implore our religious houses to implement all the safety protocols as agreed.
"Let me emphasise once again that the coronavirus disease is real, and anybody can contact it. It is neither a rich man's nor a poor man's disease. Anybody can be affected.
"I call on every resident in the State to act responsibly to protect yourself and others, and do not forget to continue praying for God's merciful intervention to stop this raging pandemic. Together we shall beat this virus,'' he added.