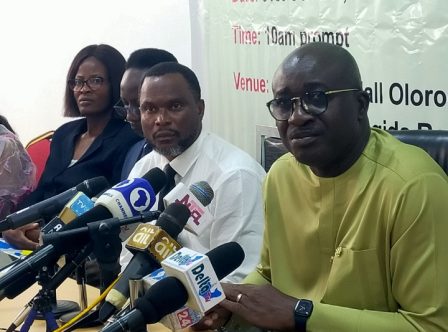 As part of an ongoing campaign to ensure a cleaner and safer Delta State, particularly within the Asaba Capital Territory, the agency saddled with the responsibility tiding the environment, Asaba Capital Territory Development Agency, would today November 1st 2023, begin a door-door awareness campaign.
For an initiative that is specifically targeted at ensuring a cleaner, safer and greener environment, the agency has also warned those whose structures are on water channels and other unauthorized places to desist or face the wrath of the law.
At today's awareness campaign, which would be taken to several communities within the state capital, for 21 days, the agency said it would be followed with a road show after which it would be the establishment of a mobile court to ensure the enforcement of the policy.
Briefing journalists in Asaba, on Tuesday October 31st 2023, the Director General, Asaba Capital Territory Development Agency, Chief Patrick Ukah, a well respected title holder of Akatakpo Eyi 1 of Okpanam Kingdom, Oshimili north local government area of the State, revealed that the agency would kick start the campaign with the clearing of drainages in the capital territory.
'Hear him: "We plead with those who construct illegal structures on the setbacks to remove them now. If you have any illegal structure attached to your house or shop we plead with you to remove it now.
''We are running this campaign for 21 days. We are already discussing with the Chief Judge of the State to establish Mobile Courts. However, I want to ensure that the message is carried to everybody in the capital city", the political juggernaut stressed.
Chief Ukah, whom the immediate past governor, Dr. Ifeanyi Okowa, described as a competence and loyalty party man, said: "If you and I can keep our surroundings clean, then the capital city will be better for it.
"But if we are dirty, we will all live with the consequences. If we take sanitation as everyone's business, it will add to the aesthetics of the city.
''What we are doing now is to embark on a sensitization campaign. After two weeks of this campaign, we will have a Road Show on greening the capital city. For now, the house-to-house campaign will focus on cleaning our immediate surroundings.
''For now, we will not focus on building new shops but we will review what we have and ensure that they are operating in the right direction and make sure that their environments are kept clean before we begin enforcement.
''We want to believe that people will keep their surroundings clean. We appeal to everybody in the capital city to help us keep peace and maintain the best sanitary condition for a secure, clean and green Capital Territory.
''We plead that you should not throw waste into drainages, do not litter the frontage, or surroundings of your houses. Please, bag your waste properly. We will make the bins affordable and available for people to buy", he added.
It would be recall that on September 8th 2023, the State Governor, Rt. Hon. Sheriff Oborevwori, has approved the appointment of Chief Patrick Ukah, as the Director General, Delta State Capital Development Agency while on 26th of same month, Chief Ukah, the immediate past Secretary to the State Government (SSG), was formally  inaugurated as the Director General (DG), Delta State Capital Territory Development Agency.