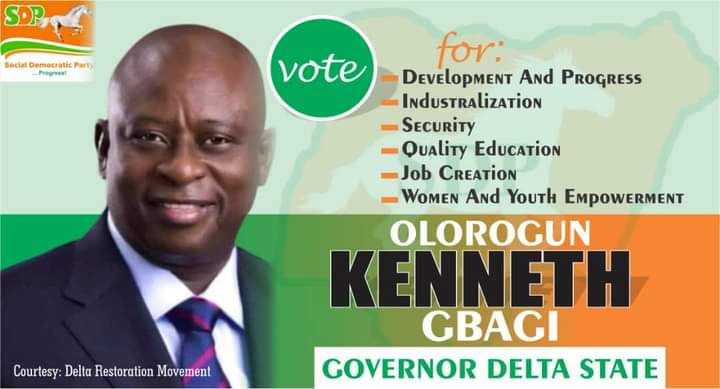 Contrary to the aspiration of our founding fathers, at creation in August 27, 1991, Delta State, Nigeria's, second largest oil production, with massive wealth to spend, is far from where it ought to be. At 32, the State remains a work-in-progress.
On this premise, the governorship candidate of the Social Democratic Party (SDP) in the March 18th election, His Excellency, Olorogun Barr. Kenneth Gbagi FNIM, OON, decided to share his honest, but very modest, thoughts about Delta at 32.
The former Minister of State for Education and largest employer of labour in the State said that Delta at 32 years of existence has gone backwards, saying that there was nothing to celebrate.
Gbagi, who spoke on Sunday August 27th 2023, through his Chief Press Secretary, Kenneth Orusi, expressed shock that with the enormous resources at the disposal of the State, there was nothing to show for it.
Hear him: "Deltans, it is with mixed feelings that I bring greetings of love, having by influx of time attained 32 years since creation.
"It is no joke that we all had a child that is 32 years old but unfortunately that while Deltans as a people have nothing to celebrate, the structure of Delta State has remain largely the same as left for us by our Colonial Masters.
"While tones of money had come, passing the name Delta State, it does not reflect on the ground giving all we have received as a people.
"It is unfortunate that what is before us today, make a laughable stock in the comity of states in Nigeria, and elsewhere in the globe.
"Nothing will happen unless we collectively as a people decide even though it is late, but decide to take our common patrimony, our destiny as a people, giving the fact that there is no any other state for us Deltans can claim to be ours except this one which is Delta State.
"It is not one that we want to play cosmetic lip service to. The speed in which we are running into self-extincion calls for serious concern.
"I have laid myself, my life and giving the fact that God has been extremely kind to me to liberate us as a people. Search yourself, search your environment, Delta was one of the first four provinces in Nigeria, with all the endowment, Delta is the biggest slum in Nigeria.
"While I mourn this day as Delta attain 32 years of nothing to show for it, it is about time fellow Deltans should join hands with me in my quest to liberate this State from deceit, from theft, from lack of development, unproductiveness.
"I hold myself and God gave us all as a people to be one of the richest states in Nigeria, one of the richest states in the world but we have to be decisive.
"The Bible says take hold of that which is yours or else the devourer will take it.
"It is on this understanding that I participated in the election, that it was clear that nobody else was qualified among those who participated except myself in the quest to liberate us which I know that God has sanctioned.
"Join me to ensure that we turn our fortunes collectively around for the good, greatness and massive speedy development which we all urgently require.
"Happy 32nd anniversary, God bless you! Gbagi, added.