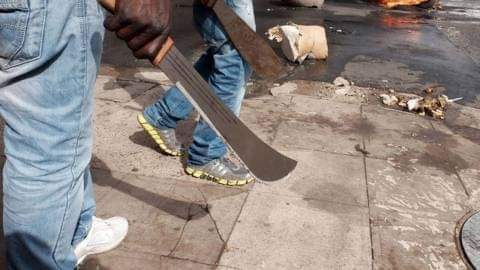 No fewer than two persons reportedly killed and many injured in a renewed communal clash that erupted in Ifon/Orolu communities of Osun State on Wednesday.
Eyewitness account who identified himself as Ademola confirmed that two persons were killed, adding that the two towns are seriously boiling, urging the concerned authorities to act fast on the matter.
The clash reportedly started in the afternoon of Wednesday, over information in circulation that an Ifon indigene ha been killed by the Ilobus.
In what could be regarded as a reprisal attack, the development however said to have infuriated the people of the Ifons, leading to mobilizing and equipping themselves with different kinds of weapons and other warring tools to confront their perceived warring enemy in a fierce battle.
It was gathered that the two communities had been littered with blood as unspecified numbers of persons got injured in the fracas.
Apart from the casualty recorded in Ifon, sources disclosed that no fewer than two lives had been claimed from the two communities while many residents had fled to nearby towns like Osogbo, Ilajue, Agunbelewo, Erin- Osun, Okinni and some other adjourning villages for safety.
As of the time of filing this report, many houses had been reportedly burnt while sporadic gunshots still rent air of the nooks and crannies of the settlements despite the imposition of curfew in the two communities by the state government.
Reacting to the development in a statement, the Ilobu community Development Union spokesperson, Mr Tairu Babatunde said, "What started like a rumour in the early hours of Wednesday has finally become reality. People of Ilobu, especially those living at Oke-Ima, Idire, Apipoororo, Ganga, Oke-Awesin and Council road woke up to a rumour of planned attack by the Babatunde Oyetunji-led Ifon-Osun, but many ignored as they believed that the crisis that Oyetunji ignited about a month ago has been laid to rest.
"However, as against their beliefs, armed thugs who have been identified as people of Ifon-Osun invaded their communities and started shooting sporadically.
"As at 7pm on Wednesday, thousands of Ilobu people who are residents of Oke-Ima, Apiponroro, Idire, Council road, Ganga and Oke Awesin areas have been displaced as armed hoodlums have started shooting at their houses.
"Attached is the video of residents of the aforementioned areas who have been displaced and are looking for abodes in safer parts of the town.
"The world would recall that Jide Akinyooye and Babatunde Oyetunji were fingered by the people of Ilobu to be Masterminds of the murder of Sodiq Alamu, an indigene of Ilobu was killed on September 16 at Opapa area of Ilobu.
"We again call on the security agencies to immediately put an end to this incessant attack on Ilobu by the people of Ifon-Osun. Arresting Oyetunji and Akinyooye will be a perfect beginning to end these unwarranted attacks," the statement said.
However, the Ifon community on their part and in a separate statement by Mr. Mufutau Muideen, Media Assistant To High Chief Babatunde Oyetunji, The Olufon Regent and Eesa of Ifon-Orolu Kingdom, the community said, "We are constrained to call the attention of His Excellency, Senator Nurudeen Ademola Jackson Adeleke, The Executive Governor of Osun State to the ongoing attack by the people of Ilobu community.
"It is unfortunate that two people have been shot by suspected Gunmen who shot two people at Gbere-Odofin – Oba Road after they were identified as indigenes of Ifon and Erin-Osun communities. Unfortunately, Mr. Taiwo Adetoyese, an indigene of Erin-Osun has been confirmed dead while the other victim from Alasangbe's Compound Ifon-Osun is responding to treatment.
"Thereafter, we called the attention of the Osun State Commissioner of Police to further threat by Ilobu Community that they are ready for war by killing our people. Moments later, the Security Team arrested two armed fighters from Ilobu community and they have been taken to the Headquarters of Osun State Police Command. Consequently, we are experiencing sporadic shooting at same place where they were arrested.
"The true position is that the Police has not mobilized enough personnel to curtail the situation while our people are living with fear. We are appealing to the Osun State Government and security agencies to hold Oba Ashiru Olatoye Olaniyan, The Olobu of Ilobu responsible for the ongoing crisis that is unsettling the people of Erin-Osun and Ifon-Orolu Kingdom. As of now, we cannot estimate the value of damaged properties and burnt houses!
"We are equally pleading to the Osun State Government to revisit the unfair State Government Official Gazette that is the root of the crises in Irepodun and Orolu Local Government.
"Orolu Stakeholders are looking for immediate intervention of the Osun State Government with a view to guarantee lives and properties of the people," the statement added.
Credit: Nigerian Tribune except headline