A three man syndicate specialized in breaking into Churches and carting away instruments have been apprehended in Boji-Boji metropolis of Agbor, Ika south local government area of Delta State.
The shameful act which involves three able bodied men from Lagos State, Efoyoyen Bright, Adeyemi Yusuf and Richmond Chibuzor Temple was committed at the wee hours of Friday 28, August 2020.
They were apprehended through a team work by the members of Agbor Gha-Ihun security group and Branch C Lagos bus park in Agbor headed by Comrade Charles Agboje, its unit chairman, Comr. Abraham Ojemeyi and the Secretary, Aghulor Agbedion, respectively.
Luck ran out on the suspects while on an attempt to waybill the stolen instruments to their pay master in Lagos whose was given as Mr. Chinedu well known as Buffalo.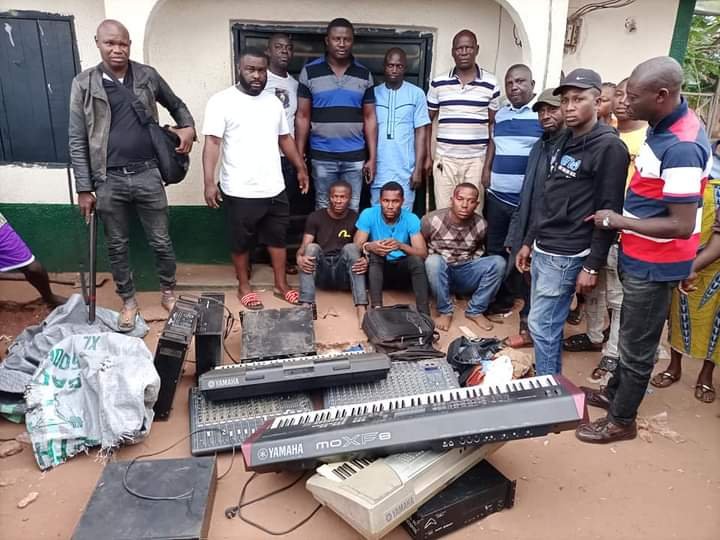 In their separate confessions, the suspects disclosed that they embarked on the journey from Lagos through the help of a map given to them by Buffalo operating in an area of Oshodi in Lagos.
According to the gang leader who is a native of Akumazi in Ika Northeast LGA of Delta State, Bright, "we went to Buffalo for financial assistance when he introduced us into the business and asked that we come to Agbor to steal the items from churches with a map he sent to me on Whatsapp.
"Nevertheless, We had a successful operation in three churches in which two was in Agbor and one at Asaba. But luck ran out on us when we took the stolen items, well loaded in sacks, to waybill at Lagos pack, Agbor."
Speaking further, Bright regretted his crime which he said was their first operation and in the same vein pleaded for pardon.


Addressing newsmen, the Chairman of Agbor Gha-Ihun who double as Special Assistant to the Delta State Governor on Security, Land and Waterways, Comr. Monday Kiyem, explained that they acted swiftly having received a telephone call from the park, adding that they were handed the suspects which according to him, had earlier taken to their heels haven observed that they have been busted.
"Following the increase complaints of theft in churches in Agbor by unknown persons suspected to have come from outside Agbor, we met with all the Lagos branch parks and encouraged them to always inform us on any person or group of persons trying to waybill properties through their parks within the hours of 5 and 6am. It was on this ground that the Branch C park, having observed the illegal movement of the suspects, called us to apprehend the criminals.
"I wish to use this medium to appreciate the chairman of Lagos park, branch C and his team for keeping faith with us while striving to ensure that crime in Agbor and it's environs is reduced. I also want to encourage other branches of the NURTW among other residents of Agbor to emulate the action of branch C," Kiyem added.
Meanwhile, Comr. Kiyem in collaboration with the Senior Special Assistant to Governor Ifeanyi Okowa on Security Matters, Comr. Monday Kiyem, popularly known as Akpolo, paraded the suspects round the various churches they stole from which includes, St. John Anglican Cathedral located at Okoh junction, Victory Army Ministry at Owa-Eke by Old Lagos/Asaba road while the third church in Asaba.
Items stolen include 3 heavy keyboards and 5 SP-3000 audio power amplifiers.
As at the time of filing this report, the suspects with the stolen items recovered and a Corolla Sport car which the suspects used in traveling from Lagos to Agbor with registration number Lagos BDG419 GD, were handed over to the Police headquarters in Agbor.