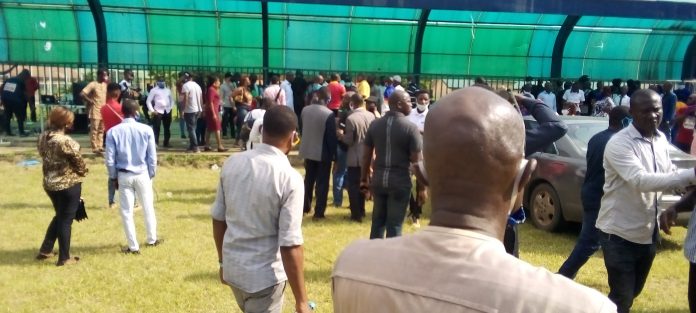 The Nigeria Union of Journalists (NUJ), Delta state Council election met brick walls over disagreement on the modalities to be used by members to exercise their voting rights.
Trouble started Thursday at Saint Patrick's College (SPC), venue of the stalled election when the Zonal Secretary, Barssey Eyong, could not take a major decision.
The election was to be contested by two teams, PRIZE TEAM and REDEMPTION TEAM.
The principal of the PRIZE TEAM, was the former Secretary of the State Council, Comrade Churchill Oyowe while REDEMPTION TEAM, has the immediate past Chairman of the Council, Comrade Michael Ikeogwu.
Supporters of both teams disagreed over modalities that didn't favour their teams.
The idea of using the NUJ National Identity Card was quashed as it didn't go down well with the PRIZE TEAM members.
Also, the idea of using the list from the Chapels was also stepped down as it didn't favour REDEMPTION TEAM.
Faced with evident stalemate, leaders of the Union headed to the police headquarter, Delta State Command and returned about two hours after with a resolution.
Before the Zonal Secretary Barssey Eyong, was whisked away under police cover by supporters of REDEMPTION TEAM, who refused that the resolution from the police shouldn't be made open, it was gathered that the police told both sides to go and implement the position of the NUJ Constitution in the case of stalemate.
The election which was slated for 10:00am was finally stalled at about 4:00pm.