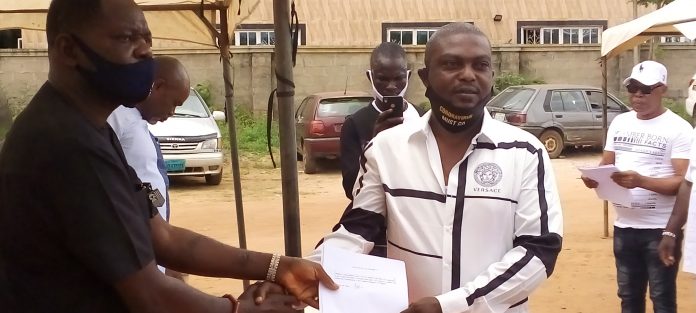 Chairmen and executives, Delta State Management Committee for Public Motor Parks and Land Transportation, have been urged to follow government precautionary measures in combating Covid-19 in the various parks.
The charge was given Wednesday by the State Chairman, Chief Francis Arhiyor, while inaugurating Anicha north branch 'A' Chairman, Comrade Lucky Ochei, his executives and other local government branches across the state in Asaba.
The State Chairman in his speech advised the chairmen in their various local government chapters to go back and harmonize a responsible and law abiding body of transport men and women ready to take the transport sector to the next level of people friendly commercial motor parks and land transportation.


Hear him: "As chairmen and executive that were sworn in today, you must go back and work in harmony. You must protect the oath of office that you swore to, protect the Delta state management Committee on public motor parks and land transportation. You must make sure you keep to the guidelines of Covid-19, as instructed by the leaders so that we will minimize and manage the spread of Covid-19".
He stated that if the epidemic was not managed by those in the transport sector, the pandemic would spread like fire, hence government came up with the numbers of passengers on board, "so as you go back home, make sure you keep to those directives of the state government", he stressed.
He warned mischief makers to retrace their steps to where they were supposed to be, "and make sure you respect your branch chairman. Because if you don't respect your branch chairman, you don't respect us at the State level. So, please, we want your corporation and we want all to enjoy this transportation business that we are all into".
In an exclusive interview with The Story, Comrade Lucky Ochei, appreciated God for the successful inauguration, saying it was a very good day for him.
He assured that he would implement the advise of the state chairman in order to work together in peace and harmony.
Comrade Ochei, having been on the saddle of the Transport Union's leadership in Aniocha north and now both Chairman and State Trustee, is ready to partner the state government in ensuring a well coordinated transport workers body in the local government area.